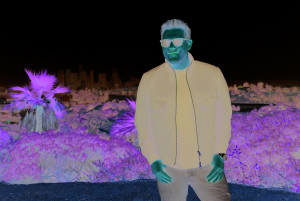 Tyler Florence hosts "The Great Food Truck Race"
Good news if you're a fan of food trucks: the trend is still going strong. According to IBISWorld industry stats, there are 25,476 food trucks operating in the U.S. and the market is only expected to grow in 2020.
If you want a glimpse of the future, tune in to Food Network this week to meet the next wave of aspiring food truck operators. Another season of "The Great Food Truck Race" rolls out Thursday, March 26, and in marked contrast with last season's "Holiday Hustle" winter theme, this edition will be basking in the California sunshine.
The weekly challenges and exotic California Gold Coast locales are different, but the format remains the same. Each week, the truck teams will race to a new location to face new challenges and cook up new menu items. As always, they'll have to sell as much food as possible to make a profit because the team that earns the least will be eliminated at the end of the episode. And the last two teams will have to pull out all the stops to win the $50,000 prize.
These are your truck teams for this season: Crystal's Comfort Food, known for sweet and spicy wings; health-conscious Eat My Crust; aptly named Lunch Ladies; Indian Tex-Mex purveyor Mystikka Masala; Super Sope and its Mexican cuisine; and Bachelor Kitchen and Team Fat Kid, both specializing in Tex-Mex.
In the season premiere, all seven teams start their journey in the city that popularized taco trucks, Los Angeles. But if you're hoping to see messy tacos laden with toppings, you'll be disappointed: celeb chef/host Tyler Florence will challenge the teams to cook and sell luxury versions of traditional fare.
"The Great Food Truck Race" isn't the only mobile food-focused show on TV but it was the first one. Since its debut in 2010, the series and its host have been credited with bringing the street food scene into the mainstream consciousness. The novelty of the concept may have worn off but the popularity endures, and it's a markedly different scene today. Florence summed it up best in an interview with The Daily Meal: "Trying to engage in a conversation about food trucks was impossible in 2010. People were telling me that there was no way they'd eat from a 'roach coach.' Think about how far we've come since then."