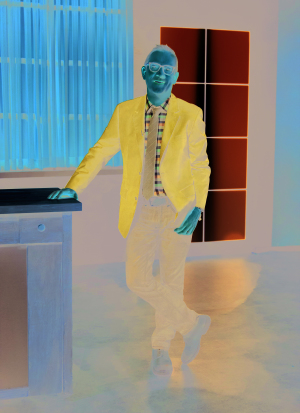 Ted Allen hosts "Chopped"
They're baaack!
They're already winners, but 16 past champions are stepping back into the "Chopped" kitchen and our TV-loving lives this week, as Food Network rolls out its newest installment of the "$50,000 Champs Challenge" tournament.
The five-part "Chopped" tournament-within-a-season kicks off on Tuesday, Jan. 21. The event is an audience favorite and has become somewhat of an annual tradition since the first $50,000 challenge ran in 2010. (The very first "Chopped Champions" was in 2009, but the current format was introduced a year later.)
There's nothing new in terms of how the elimination-style contest works: four competitors (in this case, all past "Chopped" champions) must outcook their opponents in two elimination rounds (the 20-minute Appetizer round and the 30-minute Entrée round) before the final two face off in the 30-minute Dessert round that determines the winner.
These "Chopped" pros will have a slight advantage, at least over their past selves, because they know exactly what it's like to race against the clock in a kitchen that isn't your own. They've also had practice with keeping their cool under hot television lights while being critiqued before an international audience of millions ("Chopped" airs in more than 30 countries).
But the mystery basket items -- and the way chefs integrate them into their hastily improvised but (mostly) impeccably prepared dishes -- are precisely why we've been tuning in to "Chopped" for more than 10 years. In reality, once they open those baskets, the contestants only have two minutes to come up with a recipe that will seamlessly combine those flavors without disguising them. And that's the true measure of a "Chopped" champion.
Spoiler alert: Expect some "watermelon weirdness" in Tuesday's event opener. There's also a mention of a funky soybean product (fingers crossed it's my favorite fermented food, natto) and a crunchy dessert surprise. For Part 2 airing on Jan. 28, Food Network is also teasing a … salad cake?
Judges for this edition include Jamie Bissonnette, Maneet Chauhan, Chris Santos, Scott Conant and Angie Mar. Ted Allen hosts.
The tournament will run from Jan. 21 to the Feb. 18 $50,000 finale (mark your calendars). Throughout the event, you'll find video highlights on foodnetwork.com, and you can always share your mystery ingredient ideas on social media using the hashtag #Chopped.
And have you ever wondered how they can pull off a cooked dish in the same amount of time it takes to heat up your oven or stove? I'll let you in on a little secret: the chefs start each round with a preheated oven set to 500 degrees Fahrenheit and a pre-boiled pot of water. After that, they're on their own.