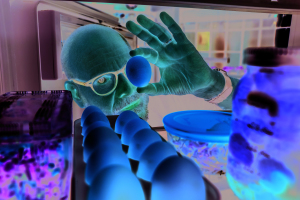 Alton Brown hosts "Good Eats: The Return"
It was two years ago when Alton Brown announced a reboot of his groundbreaking "Good Eats" series, and the news sent fans (myself included) into a frenzy.
We're about be rewarded for our patience: we'll all be treated to a double shot of "Good Eats: The Return" when it premieres Sunday, Aug. 25, on Food Network.
These are the first new episodes of "Good Eats" to hit the airwaves since 2012. At that time, Brown took a break from the series to focus on other projects, including shows such as "Cutthroat Kitchen" and his book, "EveryDayCook." Evidently, the series that launched Brown's TV career has never been far from his heart (or maybe fans have never let him forget it), because he's ready to share more food science-y tips and no-fail recipes with viewers.
In the premiere episode, Brown makes the compelling argument that Italian food (as we know it) was actually invented in America, not Italy. And since the episode is titled "American Classics X: Chicken Parm," Brown points to chicken parmesan as the dish that started it all, with the help of "an Italian canned tomato."
The episode will be followed by "Every Grain Old Is New Again," in which Brown explores how ancient American grains (and some of my personal favorites), such as amaranth, quinoa and chia, are staging a comeback. In the past few years, I've become quite a fan of the texture and flavor that these grains can add to side dishes and salads (especially the North African grain freekeh, which is just fun to say). But Brown will go beyond "it just tastes good" by explaining each grain's versatility and its nutritional content. Plus, you can always count on his tried, tested and true recipes to help you make the most of these new-again old-timers.
Since you got me thinking about the past, the original "Good Eats" premiered in 1999 and ran for 13 years. For many, this was the first Food Network series that entertained and educated us. There were no other shows like it. By mixing comedy and history bits, pop culture references, practical tips and perfectly succinct explanations -- not to mention a few puppets, who doesn't like puppets? -- Brown made culinary science more palatable. And in the process, he changed the way we understand and appreciate how good food is made, even at home.
While working on "The Return," Brown also launched "Good Eats: Reloaded" last fall on the Cooking Channel. These were classic "Good Eats" episodes that had been reworked (he likened it to remastering) and updated to reflect how he'd make them today. And for all his efforts, his remastered pilot, "Steak Your Claim" from 1999, received a 2019 James Beard nomination.
Imagine what new ideas and good eats he'll bring to viewers through all-new episodes that begin Sunday, Aug. 25.
It's been a long wait, but welcome back, "Good Eats." You were missed.