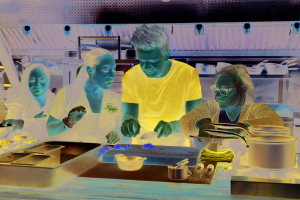 Gordon Ramsay with the owners and staff of M'Dears in "Gordon Ramsay's 24 Hours to Hell and Back"
No restaurateur or chef, professional or amateur, would want to hear the words "You'll kill someone!" -- Certainly not from Gordon Ramsay.
The line that launched 1000 memes is most famously associated with "Hell's Kitchen" and "Kitchen Nightmares." But if Ramsay doesn't actually say it in an episode of "Gordon Ramsay's 24 Hours to Hell and Back," you can almost hear it every time he steps into a walk-in fridge and inevitably pulls out rancid meat. (Cue the sniffing and the retching.)
Get ready for more disgusting dining discoveries: Season 3 of "Gordon Ramsay's 24 Hours to Hell and Back" premieres Tuesday, Jan. 7, on Fox.
If you haven't seen it yet, the reality show is a mix of "Kitchen Nightmares," "Restaurant: Impossible" and, well, pretty much every other Ramsay-led show. And there's a dash of "Mrs. Doubtfire" (1993) in there, too, depending on the prosthetics and costumes used to help Ramsay go undercover as a customer at the top of the show.
This season will feature 10 different eateries, and Ramsay sightings in Arkansas and New Jersey fueled some speculation online as to which "closed for renovations" restaurants would be featured. (Participants can't disclose any details until the episode has aired.)
Rescuing failing establishments is Ramsay's TV stock-in-trade, and in "24 Hours," the hot-tempered chef rolls up to the establishment in his hard-to-miss mobile kitchen/command center. Ramsay and his behind-the-scenes team have just 24 hours -- and there's a big countdown clock to remind us of that -- to address the issues (personnel or otherwise) plaguing the business, refresh the eatery and its menu, and help the owners launch anew.
It's classic Ramsay, but, hey, if it ain't broke, don't fix it. And clearly, the 2019 Critics' Choice nominee "ain't" broke: Season 2 of "24 Hours" pulled in higher ratings (about a 5% increase) than its first season and averaged about 3.47 million viewers. So the show is a consistent performer for Fox. And so is its star, whose own production company is behind "24 Hours."
Ramsay looks poised to serve up at least three more shows in 2020. There's "MasterChef" (auditions were held nationwide in the fall) and "MasterChef Junior," and "Hell's Kitchen" was also renewed for two more seasons. Rumor has it that Season 19 already filmed last spring, though there's still no word on a premiere date.
Given that we last saw Ramsay on the Sept. 18 finale of "Masterchef," fans will be eager to get their dose of kitchen disasters and Ramsay-isms when "Gordon Ramsay's 24 Hours to Hell and Back" returns on Jan. 7.