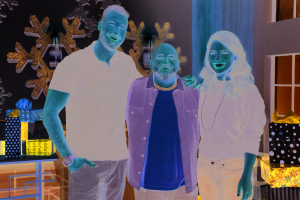 Sharone Hakman, Duff Goldman and Molly Yeh from "Ultimate Hanukkah Challenge"
It's the eight-day holiday that celebrates the rededication of the second Temple of Jerusalem and recalls the miracle of the oil that burned for eight days.
This year, Hanukkah begins at sundown on Sunday, Dec. 22. It's a time of giving and sharing, and for being thankful. It's also a time for eating mounds of mouth-watering fried foods!
Hearty brisket, eggy kugel, jam-filled doughnuts and crispy latkes (don't forget the applesauce) -- these are the traditional staples you'd expect to find on the table when gathering with friends and family. And they will feature prominently in "Ultimate Hanukkah Challenge," which premieres Saturday, Dec. 21, on Food Network.
In the past, the cable network has featured seasonal-themed episodes of its regular series (more on that later). But "Ultimate Hanukkah Challenge" is the very first Food Network competition that focuses solely on the Festival of Lights.
It's a standalone special, meaning you won't be tuning in to weekly elimination rounds that culminate in a grand finale. However, its format is a familiar one, so you can just focus on all the action -- and the food, of course.
Four chefs will be asked to put their own unique spin on some of those aforementioned classics. There are a total of three rounds to this competition (think "Chopped") and the winner gets bragging rights (the free trip to Paris, France, ain't too shabby, either).
Molly Yeh, whose Chinese and Jewish roots have inspired many of the recipes featured on "Girl Meets Farm," will host this Hanukkah special. Duff Goldman and Sharone Hakman will serve as judges.
"Ultimate Hanukkah Challenge" is worth a watch if you're looking for fresh takes on old favorites. But if you're looking for tips on how to make better latkes, you'll want to tune in to "Good Eats" on Sunday, Dec. 15.
The episode is titled "Whole Latke Love," which means Alton Brown will be doling out tricks and techniques for making Bubbe-approved latkes. He'll also dive into the history of the latke, and viewers might be surprised to learn these golden fried potato pancakes were originally made from an Italian cheese. So keep that in mind when tuning in to "Ultimate Hanukkah Challenge" on Dec. 21, or when gathering with loved ones on Dec. 22. Happy Hanukkah!