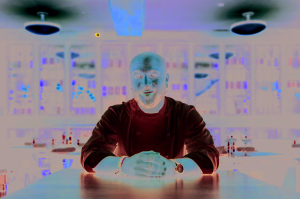 Cliff Crooks hosts "Chef Boot Camp"
Ready for a new round of culinary boot camp on Food Network?
Surprisingly, it has nothing to do with "Worst Cooks in America." This particular boot camp is for the pros, the chefs working in restaurants across the country — and it's not "Restaurant Impossible," either (or any Gordon Ramsay-led project, for that matter).
"Chef Boot Camp" premieres this Thursday, April 8, on Food Network. And you know that old saying about how "location, location, location" is key to a restaurant's success? Forget that; at least for the restaurants involved here (forget about decor, too). With "Chef Boot Camp," the problem is entirely inside the kitchen — specifically, the chef running it.
The series stars Cliff Crooks, a former "Top Chef" contestant (he was infamously sent home in Season 2) and guest judge on shows such as "Hell's Kitchen," "Tournament of Champions" and "Chopped Junior." A trained chef with plenty of experience in New York eateries, Crooks holds the title of culinary director at BLT Restaurant Group, meaning it's his job to ensure smooth operations in every kitchen — even if it means firing and hiring the chefs. Clearly, he knows a struggling chef when he sees one.
Each episode revolves around three underperforming chefs who were each nominated by a restaurant owner. After a brief introduction, Crooks assesses their current level by asking them to prepare their signature dish for a taste test. Then come the challenges: first, the chefs have to demonstrate a fundamental technique by preparing a classic dish on time (and to Crooks' satisfaction); after that, it's a trial by fire as they work a live dinner service at one of the BLT Restaurant Group's eateries. For the final challenge, the chefs are asked to whip up a new dish for their respective restaurant owners.
With their jobs on the line, these participants have to prove to Crooks and the restaurant owners that they truly have what it takes to succeed — not only in this boot camp but in the real world, too.
"Chef Boot Camp" debuts on April 8, but if you head over to Food Network's website, you can get a sneak peek at some of Crooks' top cooking tips (FoodNetwork.com/ChefBootCamp). Food Network is also urging would-be viewers to follow along on social media using #ChefBootCamp and get into the spirit of things by sharing their own biggest cooking mistakes.