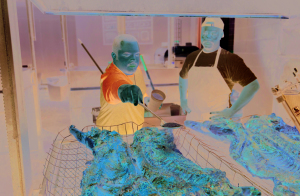 Chef Roger Mooking as seen in "Man Fire Food"
It isn't rocket science -- fire cooks food. Oh sure, there are countless ways to heat up your meal: food can be boiled, it can be plunged into the deep fryer, it can be gently heated in a sous-vide cooker or it can be tossed into a microwave oven. The first way of cooking, though, was with flames, and we're still doing it today, with good reason: it just makes for an incomparable meal.
Chef Roger Mooking continues his quest to explore all of the creative and inventive ways that people are still cooking with fire when "Man Fire Food" returns for a new season on Wednesday, May 22, on Cooking Channel. Each episode finds the charismatic host hitting up a new location, where he hangs out with fellow chefs who are cooking in the most primal way possible.
Mooking begins his journey this week in Fort Worth, Texas, where he hangs out with a chef who has a massive, custom-built metal rig on his ranch that he uses to slow-roast entire hogs over hot coals. It isn't just savory dishes on the menu for this visit, with Mooking's host also showing off how he bakes pear and blackberry cobblers in Dutch ovens using more hot coals.
In the episode's back half, our host heads south to Houston to meet up with a chef who uses 10 vertical spits to cook marinated pork butts low and slow using a triple tier of smoke, fire and heat. As the spits slowly turn next to the flames, the two chefs hand-make corn tortillas for some succulent pork tacos to enjoy once the meat is ready.
Mooking's culinary journey through Texas continues next week when he meets a chef who's built a 500-gallon smoker in his backyard that he uses to combine Asian flavors with Texas classics to make fusion dishes that defy classification.
Fire may seem simple, but there's just so many ways to cook with it, from smoldering coals to roaring flames to flavorful smoke. Join chef Roger Mooking as he explores modern twists on primal cooking in "Man Fire Food" Wednesday, May 22, on Cooking Channel.