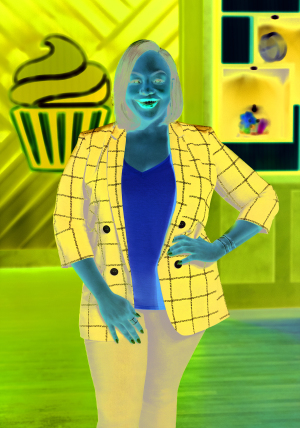 Kardea Brown hosts "Cupcake Championship
After last week's "Wedding Cake Championship" finale, Food Network has decided to leave its timeslot on a "bake" setting for a few more weeks.
Premiering Monday, July 1, "Cupcake Championship" is the newest fast-paced food battle that challenges competitors to think big but bake small.
How big? I'm talking 3D big: cupcakes that form edible snow globes; great mystical beings and oversized pet designs; even a whole planet made of little else than frosting and palm-sized cakes.
These over-the-top displays are some of the challenges we'll see in the coming weeks. Everything needs to look perfect; there are no wayward thumbprints here. Each masterpiece also needs to be pro-level delicious to impress the judges, who will be doing all the sampling. And while the competitors are some of the best in the business, it has to be tough to work with building material that needs to be moist and light-as-air fluffy.
"Cupcake Championship" follows the tried-and-tested format of featuring four competitors, three judges and two rounds per episode, plus a $10,000 prize that is awarded each week.
Each episode begins with the Designer Challenge in which contestants must highlight a specific event or theme (spoiler alert: this week's challenge features a botanical theme). After a first-round elimination, the remaining artists move to the Imagination Challenge, and are tasked with creating a flavorful 3D display based on a specific theme (another spoiler alert: the botanical theme extends to this round, too).
Host Kardea Brown is no stranger to these kinds of competitions, having previously hosted contests such as "Family Food Showdown" and "Chopped Junior." As for the judges, you'll probably recognize former "Brady Bunch" star Maureen McCormick. Different guest judges will be joining McCormick each week, including Nacho Aguirre and Lerome Campbell (both contestants on previous Food Network competitions), Amirah Kassem, Stella Parks, Joshua John Russell and Gesine Prado.
It all amounts to some creative and competitive cupcake fun this month. But with just five episodes, this summertime series has a shorter run. So be sure to tune in to Food Network on Monday, July 1, to catch the very first "Cupcake Championship."