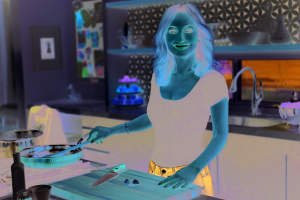 Giada De Laurentiis stars in "Giada's Holiday Handbook"
Everyone has a favorite Christmas tradition, from building gingerbread houses to going out caroling around the neighborhood. There are probably as many traditions out there as there are families celebrating the holiday, and new ones are established each and every year.
Food Network personality Giada De Laurentiis has spent the last few years sharing her best tips and tricks in the weeks leading up to the big day in "Giada's Holiday Handbook," giving advice on how to make those festive traditions go off without a hitch in every episode. Currently airing Sundays on Food Network, each episode features advice on hosting memorable get-togethers, fun and festive games and, of course, some show-stopping food that's guaranteed to elicit oohs and aahs from even the pickiest of guests.
In this week's episode, airing Sunday, Dec. 9, Giada transforms her house into a beautiful winter wonderland when she hosts a party for kids. While the children busy themselves with making their very own handcrafted snow globes, the host shares some warming recipes for pint-sized palates with those of us watching at home. On the menu is homemade tomato soup and crispy chicken sandwiches washed down with steaming triple-chocolate hot cocoa. And in case that isn't enough, there are even Italian flag cookies for dessert. Yum!
Next week's episode is the season finale, and Giada pulls out all the stops for the big day. With her whole family over for Christmas dinner, she comes up with a fun gift exchange that gets everyone excited, and a show-stopping meal that includes a standing rib roast, blistered baby pepper salad, cavatelli with Gorgonzola and tomatoes, with a stunning panettone trifle for dessert.
Whether it's foods, games or gifts, every family has Christmas traditions that are brought out year after year. Whatever your own traditions may be, "Giada's Holiday Handbook" is packed full of tips and tricks to help the holidays run smoothly -- and maybe even some suggestions for a new tradition or two. The next episode airs Sunday, Dec. 9, on Food Network.