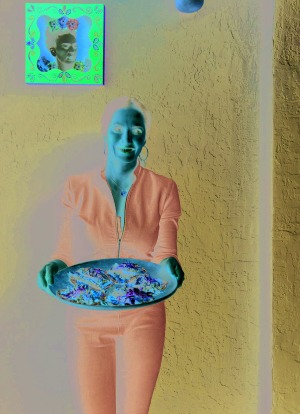 Padma Lakshmi hosts "Taste the Nation with Padma Lakshmi"
Another exciting season of "Top Chef" wraps this Thursday, June 18, on Bravo. But if the grand finale's Italian locale leaves you craving more food-meets-travel programming, let "Top Chef" host/judge Padma Lakshmi be your guide.
Beginning this week, Lakshmi will be flying solo with a new project that's close to her heart. A Hulu original series, "Taste the Nation with Padma Lakshmi" launches Friday, June 19, on the streamer.
When "Taste the Nation" was first announced last summer, Hulu described it as "a living cookbook made up more from people and culture than recipes." And that's a perfectly apt description for this 10-city journey, which looks at how diverse food cultures and immigration have shaped and redefined American food today.
It could be a family recipe or a restaurant staple, but a single dish serves as the starting point for each half-hour episode. By tracing its history and place in the community, Lakshmi ultimately tells the story of how that community evolved or laid down roots in America.
Per Hulu's series description: "From indigenous communities to recent immigrant arrivals, Padma breaks bread with Americans across the nation to uncover the roots and relationship between our food, our humanity and our history -- ultimately revealing stories that challenge notions of identity, belonging and what it means to be American."
The first episode is set in El Paso, Texas -- Sun City -- where Lakshmi speaks with cooks who commute daily from Mexico. She'll step into kitchens to immerse herself in the local food culture, which is heavily influenced by communities and agricultural traditions on both sides of the border.
In an Instagram post, the India-born model/author/actress described "Taste the Nation" as "a project I've spent years developing."
Lakshmi further elaborated in an interview with Time magazine, stating that she had come up with the show's concept a few years ago. Her willingness to broach the divisive subject of immigration policy likely explains why several networks initially passed on the show. But Hulu liked the pitch, and filming began late last year.
Luckily, filming was completed before the industry-wide production shutdown, and all 10 episodes of "Taste the Nation" will be available to stream beginning this Friday, June 19, on Hulu.