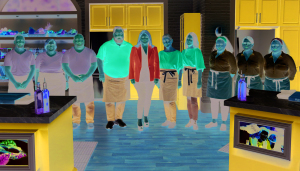 Valerie Bertinelli with contestants
They're the family-owned eateries that consistently cook up good food and, in some cases, they've been doing it since before you were born (that's what I hear every time I set foot in my favourite pizza place, and that's pretty often).
With its newest competition show, the Food Network has tapped into our undying love for mom-and-pop restaurants. Beginning Monday, Aug. 19, "Family Restaurant Rivals" pits three of America's entrepreneurial families against each other in a weekly competition hosted by Valerie Bertinelli.
How does it work? At the start of each hour-long episode (there are six in total), viewers are introduced to three new families, who compete in two rounds of challenges that include putting a fresh spin on old classics like kid-friendly or meat-and-potato dishes or preparing guilty-pleasure desserts.
It's all about who did it better. In the premiere episode, each family restaurant's top lunch combo needs to be adapted for fussy eaters. Round 2 is about creating a noodle dish -- the more creative, the better.
Sounds pretty straightforward when you read the official news release, until you get to the part about how "a surprise twist in the competition will leave the families reeling." Talk about a teaser.
Who decides the weekly $10,000 winner? A rotating panel of judges, including Kardea Brown, Jason Fullilove, Alex Guarnaschelli, Robert Irvine, Ray Garcia, Clinton Kelly, Antonia Lofaso, Bricia Lopez, Simon Majumdar, Christian Petroni, Courtney Rada, Aarti Sequeira and Jet Tila. And they can expect competitors to pull out all the stops for the prize money, which can give independent business owners a nice boost.
"One Day at a Time" and "Hot in Cleveland" alum Bertinelli has emerged as a bonafide Food Network star. Her star vehicle, "Valerie's Home Cooking," debuted in 2015, and just this year it earned her two Daytime Emmys.
This latest venture is part of a multi-series deal announced last fall. In addition to this new competition series, Bertinelli extended her Food Network hosting duties on the popular "Kids Baking Championship." And with new episodes of that competition series also airing on Mondays, that should give you a weekly double shot of Valerie for the next while.
So tune in to the premiere on Monday, Aug. 19, to see how competitors fare in challenges that put their kitchen know-how, industry instincts and family dynamics to the test.