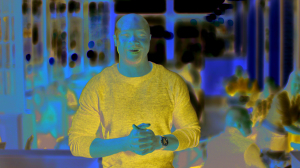 Eddie Jackson hosts "Yum and Yummer"
When you think of past winners of "Food Network Star" (or "The Next Food Network Star" prior to Season 7), Guy Fieri is probably the first name that comes to mind.
Fieri, who recently raised more than $20 million for out-of-work restaurant workers, has built up quite the business empire since his Season 2 win. Other winners who have landed their own Food Network series include Aarti Sequeira ("Aarti Party"), Melissa d'Arabian ("Ten Dollar Dinners") and Jeff Mauro ("Sandwich King").
As for Season 11's crowned champion, Eddie Jackson, he's currently holding court on Cooking Channel, where a second season of "Yum and Yummer" premiered on May 14.
The series seems tailor-made for the former NFL cornerback and food truck operator. In each episode, Jackson tackles a specific food theme and profiles decadent dishes and fun flavors from around the world. But sometimes you don't have to go far to find a meal that manages to be oh so comforting without blowing your calorie budget. And food that is tasty but healthy just happens to be Jackson's specialty, as seen on the pizza-themed episode of "Yum and Yummer," airing Thursday, June 4.
Jackson's NFL career may have been cut short by injury, but his TV career is still going. After winning "Food Network Star" in 2015, Jackson wasted little time in creating opportunities for viewers to know him. In 2016, Jackson landed his first Food Network series, "BBQ Blitz," and also served as a mentor in "Star Salvation," the web series that gave ousted "Food Network Star" contestants a chance to get back into the competition.
Speaking of web-only series, the Houston native is the host of "Eddie Jackson's Game-Day Playbook" and "Eddie Jackson's Fitness Playbook" on FoodNetwork.com, where the personal chef combines his love of food with his enthusiasm as a certified personal trainer. There has also been a stint as a judge on "Clash of the Grandmas" and, more recently, on the Canadian series "The Big Bake."
There have been other TV appearances to be sure, including his two seasons as host of "Kids BBQ Championship" and three on "Christmas Cookie Challenge." But with new episodes of "Yum and Yummer" airing Thursdays on Cooking Channel, and the recent release of his "Game-Day Eats" homegating guide, there are plenty of signs that suggest you won't soon forget Jackson's name.