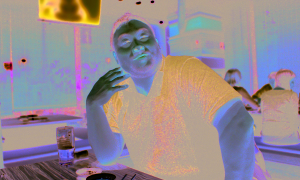 David Chang as seen in "Ugly Delicious"
As the chef behind the Momofuku global restaurant empire, David Chang has conquered the food world and has all the accolades to prove it. But ever since his first TV endeavor, Season 1 of PBS's "The Mind of a Chef," Chang seems to be increasingly gravitating towards food media.
The influential chef seems poised to be Netflix's go-to guy for unscripted food series like "Breakfast, Lunch & Dinner." Launched last fall, the food-centric travelogue invited viewers to tag along as Chang explored famous food cities in the company of celebrities such as Chrissy Teigen ("Chrissy's Court") and Kate McKinnon ("Saturday Night Live").
But it is Chang's first series for Netflix, "Ugly Delicious," that signaled a renewed focus on the media world. Season 1, which premiered in 2018, played out like a TV version of essays from Chang's now-defunct magazine, "Lucky Peach," in that each episode uses a dish, ingredient or preparation method (barbecue anyone?) as a jumping-off point for a broader discussion about cuisine and culture.
Season 2 became available on March 6. The new season features guests such as comedian Nick Kroll ("The League"), "Top Chef's" Padma Lakshmi and sportswriter Bill Simmons, and makes stops from Tokyo to Mumbai. But it consists of just four episodes -- half of Season 1's episode count -- and that caught a lot of fans off guard.
Why just four episodes? In the first episode of Season 2, the former "bad boy" of cuisine announces that he and his wife are expecting their first child. Their son, Hugo, was born in March 2019, and that gives a sense of how much work goes into producing this series, which is helmed by Oscar-winning filmmaker Morgan Neville ("Won't You Be My Neighbor?," 2018).
In an interview with Eater, Chang explained, "'Ugly Delicious' is a really difficult show to make because we're trying to do two things at once: we're traveling around the world learning about these different subjects, while also getting to know the people on the show. … I think of 'Breakfast, Lunch & Dinner' as sort of the B-side to 'Ugly Delicious.' It allowed us to focus on just one aspect -- traveling and talking with people -- while 'Ugly Delicious' remains this big, sprawling exploration."
While the sight of Chang sampling street food in a crowd is a blast from the pre-pandemic past, his dine-in establishments have been impacted by the shutdown: two of them have closed for good and a third has relocated. But given that Chang still has a dozen restaurants and several multimedia projects, Chang's culinary brand and his media one both appear to be on solid ground.