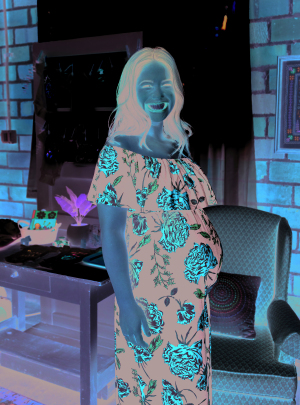 Molly Yeh hosts "Girl Meets Farm"
She's been dubbed the "Pioneer Woman" for millennials, but if you've tuned in to "Girl Meets Farm," you know that Molly Yeh shines in her own kind of light.
Just this year, the rising Food Network star earned both a Daytime Emmy and a James Beard Award nomination. She recently signed an exclusive agreement for new episodes of her Food Network show and more digital content. And she's a new mom: in March, Yeh and husband Nick welcomed their first child, daughter Bernadette (Bernie).
A Juilliard-trained percussionist-turned-food blogger, cookbook author and TV host, Yeh has already made her mark on the food entertainment industry. Now, she's ready to invite us back into her farmhouse kitchen on Sunday, Sept. 8, for an all-new season of "Girl Meets Farm."
If you're looking for movie night-friendly eats and treats, the Season 4 premiere is the episode to watch. Yeh walks you through all the steps for her barbecue pulled pork nachos, radishes with smoked butter, candy bar salads and a grilled orange soda. Other themes this season will cover Yeh's life as a new mom (check out her baby meal prep pot on mynamisyeh.com) and will include Oktoberfest, Halloween, a Midwest potluck, party bites and "Friendsgiving."
If you're new to the show and are wondering where the "Farm" in the title comes from, the series centers on the big-city transplants' new life in the Midwest (specifically North Dakota) where Nick runs a sugar beet farm.
Farm life is what the show is all about, but Yeh's joyful personality is behind its appeal. She also brings a little bit of her background to everything she cooks, whether it's an Instagram-worthy cake, a more adventurous version of a Midwest staple or a new favorite inspired by her Chinese and Jewish heritage. And the result is an entertaining mix of new and familiar flavors that are a feast for the eyes.
So tune in on Sunday, Sept. 8, to find out why "Girl Meets Farm" is the highest-rated daytime show in the Food Network Sunday lineup.