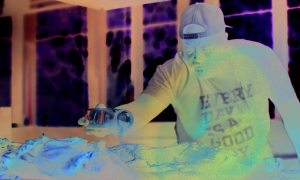 Rodney Scott as seen in "Chef's Table: BBQ"
It's been praised and parodied, and it has redefined the way food is presented on TV. From the moment it debuted in 2015, Netflix's Emmy-winning series "Chef's Table" set the bar high for food documentaries.
With six seasons completed (no word yet on when Season 7 will be available), the show's creator-producer, David Gelb, has perfected the techniques that made his 2011 film, "Jiro Dreams of Sushi," a lesson in masterful storytelling. Think cinematic visuals backed by a dramatic score, and a slick storytelling approach that practically reveres its subjects -- that's "Chef's Table." And it's become the gold standard for any TV exploration of the culinary arts.
Its detractors might dismiss it as food snobbery or elitism, and there is certainly no shortage of episodes featuring Michelin-starred restaurants, chefs and famous food writers, but those critics of the show might have been surprised to see the latest iteration shift the focus to the smoky arts.
"Chef's Table: BBQ" was added to Netflix's library on Sept. 2, and if you haven't streamed it already, it's every bit as stylish as the flagship series. Every episode -- there are just four of them for now -- brings you the story of a pitmaster and chef who is dedicated to the barbecue tradition, whichever one that is. And that, right there, will appeal to any food fans because it doesn't attempt to wade into the whole debate about "traditional" barbecue.
Much like its parent series, "Chef's Table: BBQ" celebrates food as the constants bring people together and represent an entire community or culture. Barbecue is its own form of artistry, and each episode is part of a broader visual journey that spans continents -- from Charleston, South Carolina to Sydney, Australia.
The limited series showcases a few different barbecue styles but, more importantly, it presents the history behind every piece of meat plated on screen. It's especially true in Episode 4, which highlights chef Rosalia Clay Chuc's dedication to the ancient Mayan method of preparing cochinita pibil. (Warning: The episode will make you want to jump on the first post-pandemic flight to Cancun, Mexico and journey out to Yaxunah.)
Expect to see plenty of those signature slow-motion shots that were hilariously spoofed in the "Documentary Now!" episode, "Juan Likes Rice and Chicken." But "Chef's Table: BBQ" is not the first spinoff series -- there's also "Chef's Table: Pastry," "Chef's Table: France" and the similarly styled (but differently titled) "Street Food" series, all of which are currently available to stream on Netflix.