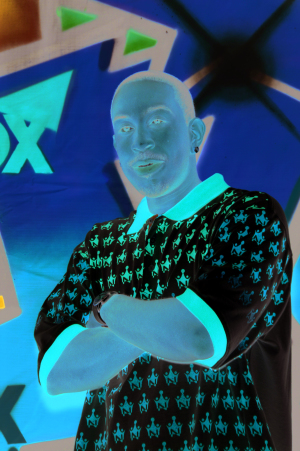 Chris "Ludacris" Bridges of "Luda Can't Cook"
He can rap and act and run a successful restaurant. But as the title of a new one-hour special suggests, Chris "Ludacris" Bridges can't cook — at least, he couldn't … until now.
Premiering Thursday, Feb. 25, on discovery , "Luda Can't Cook" is the latest program to focus on a celebrity whose cooking skills don't exactly match up with their passion for food. We've seen this concept before with recent shows such as Food Network's "Amy Schumer Learns to Cook" and HBO Max's "Selena Chef," but it hasn't gotten repetitive (not yet, anyway) because each show is shaped by the celebrity's personality. They set the tone with their sense of humor and willingness to learn, and that desire to improve is the reason "Luda Can't Cook" now exists.
"I absolutely love food and have always appreciated the art of cooking, but I can't lie — I have no idea what I'm doing in the kitchen," Ludacris said per the official news release. "I'm on a mission to change that and master one cuisine at a time. It's going to be delicious."
In the one-hour special, Ludacris is partnered with James Beard Award-nominated chef Meherwan Irani for a master class in the foundations of Indian cuisine. Admittedly, that's quite the challenge for any beginner because Indian cuisine is renowned for its reliance on fresh ingredients and the careful layering of complex flavors.
While Ludacris gamely learns how to temper spices, braise meats and make a proper curry, Food Network chef Aarti Sequeira ("Candy Land") swings by with some valuable advice. And those tips might come handy for Ludacris' final test: he has to cook a complete meal and serve it to his mother, Roberta, as well as a few VIP guests.
Despite his avowed inability to cook, Ludacris is no stranger to a commercial kitchen, or to the restaurant industry for that matter. In 2008, the Grammy-winning recording artist and Fast and Furious actor made his first foray into restaurant ownership when he opened Straits Atlanta. That restaurant was shuttered in 2012 to allow Ludacris to focus on his next venture, Chicken Beer (named after his third studio album), now located in the always-busy Hartsfield-Jackson Atlanta Airport. So, it's not like Ludacris has never set foot inside a kitchen — he even worked at a Pizza Hut during his teenage years.
But slinging 'za and serving up a high-caliber dining experience are two very different things, and the latter is what Ludacris will learn to do in "Luda Can't Cook," which drops Thursday, Feb. 25, on discovery .