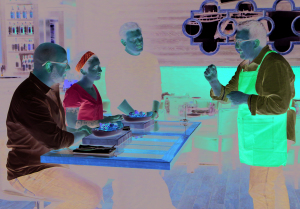 Host Tyler Florence with Chicago chefs in "Bite Club"
Local chefs love to help each other out. After all, they all share a passion for food, and they all experience the unique stresses and challenges of the culinary world. Of course, there's also a lot of friendly competition that happens behind the scenes, with chefs in every city striving to outdo each other with their culinary creations.
In "Bite Club," Food Network's latest competition series, "The Great Food Truck Race" host chef Tyler Florence is checking out some of that friendly competition between professionals and taking it to a new level. Currently airing Thursdays on the culinary channel, each episode takes the host to a new city, where he brings five of the city's top chefs together in a restaurant in which none of them have ever cooked before.
That's five culinary masterminds all itching to prove themselves -- but only two of them actually get to cook in the final round. Following a game of chance, two of the local chefs settle in to be judges while the other three throw down in an intense culinary battle, incorporating secret ingredients and the kitchen's staples into masterful creations. The top two move on to the final round.
In this week's episode, airing Thursday, Sept. 13, the host brings five of the best chefs in Savannah, Georgia, together in a modern diner. The first round challenges them to cook using locally grown peaches, and in the final round, the two remaining locals are forced to use a traditional diner flattop cooker to prepare a rack of lamb -- not the usual way to cook that delicate cut of meat!
Next week's episode finds Florence in Indianapolis, where five Southern chefs are challenged to cook in a Japanese hibachi restaurant. This unique style of grill is definitely not the norm for these chefs, and when the two finalists have to mix crawfish tails with Yukon gold potatoes, things get a whole lot hotter in the kitchen.
It's local chefs using local ingredients in kitchens that they've never set foot in before -- and, ultimately, they're being judged by their peers. "Bite Club" is a fun and friendly competition, and it's currently airing Thursday nights on Food Network.