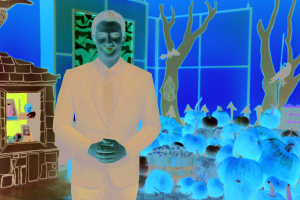 Jonathan Bennett hosts "Halloween Wars"
There are still a few weeks left before Halloween (and the start of the holiday shopping season), but it's already time to bid farewell to a few seasonal favorites on TV.
Two of Food Network's most popular Halloween-themed competitions, "Halloween Wars" and "Outrageous Pumpkins," will be crowning a champion this Sunday, Oct. 11, with the two finales airing back to back.
The first to bow out is "Halloween Wars," a viewer favorite and the cornerstone of Food Network's Halloween lineup. It kicked off its 10th season on Sept. 13 with a splashy one-hour preview special that saw host Jonathan Bennett introduce viewers to the pumpkin carvers — cake and sugar artists who have been battling it out in challenges ranging from monster road trips to the scariest concept of all: blind dates.
Heading into Sunday's finale, four teams have been eliminated and just two remain. Special guest Marisol Nichols of "Riverdale" fame joins cake artist Shinmin Li and effects artist Todd Tucker at the judges' table, and they'll have to decide which creation best captures the terror and fun of a horror movie's "jump scare" moment. The members of the winning team will be crowned "Halloween Wars" Champions and will take home the $50,000 grand prize.
Don't turn off your TV just yet, because once that prize is awarded, the new series "Outrageous Pumpkins" is also concluding its inaugural run on Sunday (Oct. 11). Sudden lineup changes are, sadly, par for the course in these pandemic times, as broadcasters and cable networks try to make the most of any available programming. And this series is no exception — its Sept. 13 premiere was bumped to Sept. 27 instead, which is why the four-part series is now wrapping this week.
The field of seven expert pumpkin carvers — there are no cake or sugar artists in this one — has been whittled down to the four contestants featured in Sunday's finale. As usual, host Alyson Hannigan ("How I Met Your Mother") has the honor of announcing each challenge. In the Quick Carve segment, the carvers will have to create a terrifying "monster-in-law". As for the final Big Carve round, well, it certainly lives up to its name: the carvers are tasked with creating a 5-foot-tall "monster-bash" scene using Atlantic Giant pumpkins that each weigh over 1,000 pounds.
Once that round is complete, judges Terri Hardin and Ray Villafane will pick the winner of the $25,000 prize. It's a smaller amount than the cash prize awarded on "Halloween Wars," although that competition requires a team effort rather than a solo performance. However, it is larger than the $10,000 awarded in 2019 to the winner of "Outrageous Pumpkins," the one-hour special that spawned this year's new series, which will likely be back in 2021.