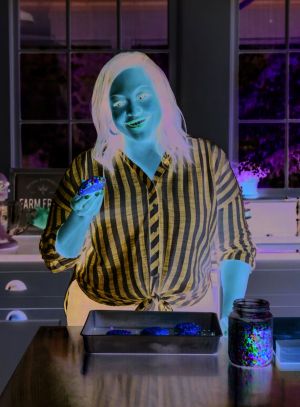 Kardea Brown from "Delicious Miss Brown"
Guy Fieri did it. So did Ree Drummond and Michael Symon. Heck, even the hosts of "The Kitchen" did it.
Just like many of us, Food Network stars quickly adapted to the "new normal" by embracing video conferencing and technology that allowed them to work from home. And while many networks were left scrambling to fill gaps in their lineups, Food Network seemed to have all the right ingredients for pandemic programming, whether it's in-the-can series like "Big Time Bake" or episodes filmed at home with a GoPro camera.
In fact, some new self-shot episodes will be airing this Sunday, June 28. "Delicious Miss Brown's" Kardea Brown has been spending this time with her mom in Atlanta. Her self-shot episode is all about their favorite BLD (breakfast, lunch and dinner) meals, which means you'll get a day's worth of food, fun and stories in a half-hour show.
That episode is followed by the self-shot season premiere of "Giada at Home." Giada De Laurentiis welcomes viewers into her kitchen for a more intimate cooking session. De Laurentiis will share her recipes for casual summer entertaining, even if you're only entertaining immediate family members or housemates. In fact, she'll be offering up her own go-to family recipes with personal tips on how to put your own spin on everything from pasta to pizza.
The willingness to forego splashy visuals and adopt a more intimate, au naturel production style is a gamble that has paid off for the network, because stuck-at-home audiences gave Food Network its highest ratings in years. In fact, some of its daytime programming saw audience increases by as much as 70%. And it's not that regular viewers were suddenly tuning in more (although they were), the network also saw an increase in male viewership.
In an interview with CNN, Courtney White, president of Food Network, theorized the network's "new" appeal: "What we found is once sports went dark, viewers who are just hungry for competition came to us and they weren't our regular food viewers. Seeing the battles play out on Food Network scratched an itch there."
The instructional nature of Food Network's programming also helps, given that life in quarantine involves home-cooking three meals a day, seven days a week, and we're all craving variety. And for more loyal viewers, getting a glimpse of a celebrity's home decor, kitchen setup and home life has been part of the fun.
So the big question is, will Food Network's pandemic formula remain in place now that things have opened up again? Self-shot episodes will likely continue into the summer. Others series, such as "Restaurant: Impossible," are hitting the road to film in areas where businesses are back up and running, though all the necessary precautions will be taken and safety protocols will be observed. Welcome to the new normal, at least for now.