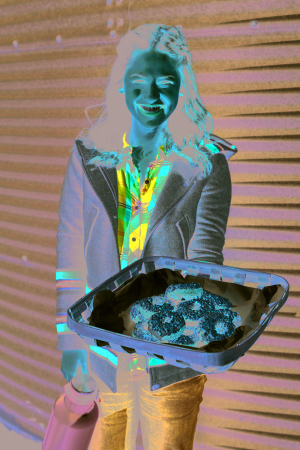 Molly Yeh hosts "Girl Meets Farm"
The season for roast turkey with all the trimmings is upon us! While this and many of the season's gastronomic traditions can be traced back to Victorian England — you can thank/blame Charles Dickens for popularizing the turkey dinner — the foods we associate with a traditional Christmas reveal a lot about our cultural backgrounds.
From tamales to jambalaya, pickled herring, lechón and Chinese food, during the holidays your dinner table is where cultural, religious and family traditions meet. The array of holiday staples beautifully reflects the nation's diversity and, unless you're a strict traditionalist, there's always room on that table for new foods or a fresh take on the classics.
This Sunday, Dec. 6, on Food Network, two new episodes offer up special holiday feasts that might tempt you to try something different from your usual fare.
On "Girl Meets Farm," Molly Yeh and her husband, Nick, are cooking up a Chinese food Christmas. Yeh is of Chinese and Jewish descent, so this episode is a way of celebrating her roots — mind you, it will also appeal to anyone who ever envied Ralphie's Christmas dinner in the 1983 film "A Christmas Story."
In the episode, Yeh will walk you through all the necessary steps for preparing Pork Soup Dumplings, Kung Pao Chicken and a refreshingly crisp Chinese Cucumber Salad. For dessert, there's Black Sesame Bûche de Noël — a unique take on the French Yule log tradition.
Then, stay tuned for a new episode of "Delicious Miss Brown," also airing on Dec. 6. This year, Kardea Brown is looking forward to celebrating the spirit of the season with her closest family members, and that means she'll be preparing a traditional Sea Island holiday menu.
Maple-Glazed Cornish Hens are the stars of her festive feast. For sides, Brown serves up Limpin' Susan With Shrimp (traditionally a rice and okra dish) and Grandma's Green Beans, alongside potatoes and smoked turkey. Of course, save some room for dessert, which is Sweet Potato Pone — a spiced custard reminiscent of pumpkin pie, and a sweet ending to a "stick to your ribs" kind of meal.
These are just some of the many (and memorable) recipes, tips and tricks featured this month, as Food Network's back-to-back holiday-themed weekends continue.