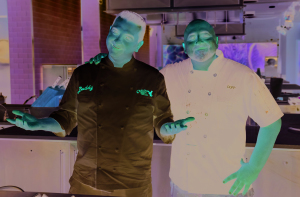 Buddy Valastro and Duff Goldman star in "Buddy vs. Duff"
In the past few years, more and more shows about cakes have landed on Food Network. Sure, the tasty sweets have always been there, but lately it feels like there are more cakes, cupcakes and cake pops than you can shake a mixing spoon at.
Two men can share the credit for really setting the trend. Buddy Valastro and Duff Goldman's shows "Cake Boss" and "Ace of Cakes," respectively, were huge hits for the network, putting shows about decadently magnificent cakes on the map, and now the two titans of baking are going head to head to find out which one of them is the best.
"Buddy vs. Duff" kicks off Sunday, March 10. Over the course of six weeks, the two titans of cakes will be tested on their baking techniques, their design skills and their flavors. Each episode features two challenging rounds meant to test Buddy and Duff: a bake-off to test their skills and a cake-off to test their imaginations and decorating chops.
In this week's premiere, the very first challenge is a personal one when the rivals are tasked with baking their favorite time-honored family recipes. For the cake-off round, Buddy and Duff get to work making cakes inspired by cars, complete with all the bells and whistles that we've come to expect from the two accomplished cake artists.
Over the course of the season, Buddy and Duff will have to make desserts for a dog-pampering party, design enchanting illusion cakes for a magic show, prepare wedding cakes for a couple's big day and even come up with carnival treats to serve to the patrons of a crowded amusement park. Every facet of professional cake making will be tested, and both bakers need to bring their A game if they want to come out on top.
At the end of the six grueling weeks of competition, only one of the two bakers can be crowned the king of cakes. Of course, it's all in good fun for both of them -- their rivalry is a friendly one, and they're both really, really good at what they do. "Buddy vs. Duff" premieres Sunday, March 10, on Food Network.