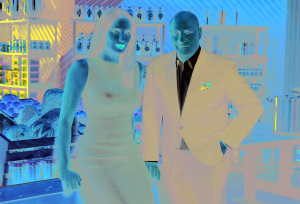 Padma Lakshmi and Tom Colicchio from "Top Chef"
Some of your favorite cheftestants are back for another shot at culinary supremacy this week.
Bravo's "Top Chef" returns for a 17th season on Thursday, March 19. And for the second time in the show's history, this edition will feature a returning lineup (Season 8 was the first all-star edition).
Viewers will quickly get reacquainted with "10 finalists and five front-runners" (per Bravo's news release) during the 75-minute season premiere of "Top Chef: All-Stars L.A."
And considering the series is now in its 14th year of existence, producers had a lot of past cheftestants to choose from. To put things into perspective, the iPhone wasn't even around when "Top Chef" debuted in 2006, back when James Blunt's "You're Beautiful" was topping the charts and we were all fawning over cupcakes (unless you were on an Atkins or Lemonade diet).
So who will you be cheering for? Take your pick from these 15 familiar faces: Eric Adjepong and Nini Nguyen (Season 16); Joe Sasto (Season 15); Jamie Lynch (Season 14); Karen Akunowicz (Season 13); Melissa King and Gregory Gourdet (Season 12); Stephanie Cmar (Season 10, 11); Angelo Sosa (Seasons 7, 8); Jennifer Carroll (Seasons 6, 8); Kevin Gillespie and Bryan Voltaggio (Season 6); Lisa Fernandes (Season 4); Brian Malarkey (Season 3); and Lee Anne Wong (Season 1).
Padma Lakshmi, who has hosted every Top Chef edition since Season 2, will be reunited with permanent judges Tom Colicchio and Gail Simmons, who was MIA last season due to parental leave. You can also expect to see Ruth Reichl, Marcus Samuelsson, Ali Wong and Danny Trejo (the "Machete" actor is an L.A.-based restaurateur and taco mogul) pop up as guest judges this season.
As the title suggests, the season was filmed in Los Angeles (like Season 2), but the finale takes place in Italy and, surprisingly, this will be the series' first European locale. The cash prize has also been upped to $250,000, making it the largest ever awarded in the Top Chef franchise, though the winner will also earn a coveted spot at the Food & Wine Classic in Aspen.
Speaking of Food & Wine, the March 19 debut of "Top Chef: All-Stars L.A." will coincide with the first-ever Top Chef Food & Wine Festival held at Universal Studios Hollywood. Those in attendance will get to sample menu items inspired by the series and watch live cooking demos hosted by some Top Chef alums.
And if that doesn't satisfy your hunger for a fan experience, check out the Top Chef Quickfire eatery in Philadelphia. The Top Chef-themed concession stand opened in January, and Season 16 contestant Eddie Konrad (you might remember him as "Eddie Money") was involved in menu development.
Or tune in to the March 19 premiere of "Top Chef: All-Stars L.A." to find out who will be the first to pack their knives "and go."