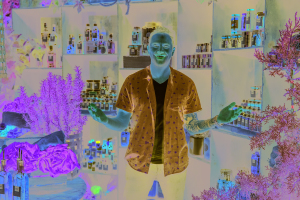 Sabin Lomac hosts "Grill of Victory"
The backyard grill plays a starring role in most Fourth of July festivities, and on that day, everyone wants to be a barbecue hero. If you're planning to fire up the grill and you need a little inspiration for your patriotic menu, or if you just enjoy a good ol' competition series, consider tuning in to Food Network this Monday, June 28.
"Grill of Victory" premiered last week and is now settling into its Monday night time-slot as Food Network continues to spice up its summer schedule. This new series doesn't exactly break new ground — it's a "who-did-it-best" weekly competition that features the same format as most food faceoffs these days. But at its core, "Grill of Victory" is a celebration of home cooks who share a passion for grilling, and that passion can be downright infectious.
Each week, three backyard grillers face off in three different rounds of challenges that are designed to test their skills and knowledge. They need to impress a rotating panel of judges, including Susie Bulloch of "Hey Grill Hey" fame, celebrity chef Darnell "SuperChef" Ferguson and two former "Food Network Star" winners: chefs Tregaye Fraser and Christian Petroni. They're the ones who will determine the winner of a new, custom outdoor kitchen designed by Cristy Lee.
If you're saying to yourself, "Hey, wasn't there another 'Grill of Victory' show?" you're not wrong.
"The Grill of Victory" (note the article) was a 2015 barbecue brawl that aired on Travel Channel. Hosted by Kevin Roberts, it featured three competing teams (and their homemade mega-grills) who had to attend and judge each other's Rig Digs.
"Grill of Victory" (without "The") is hosted by Sabin Lomac. He's the owner of Cousins Maine Lobster, a food truck franchise that received an investment boost from Barbara Corcoran after appearing on "Shark Tank." You might also know Lomac and his cousin/business partner, Jim Tselikis, from "Food Truck Rehab," which premiered on Food Network in April.
There's one episode down and five more to go.
This Monday's episode (June 28) challenges the amateur chefs to come up with a full day of meals — that's breakfast, lunch and dinner. Everything needs to be made on the grill, and competitors will have to deal with a few curveballs, too, such as a salad trio for lunch and a stuffed dinner entrée.
So, tune in to "Grill of Victory" on Monday, June 28, and follow along on social media using #GrillOfVictory.