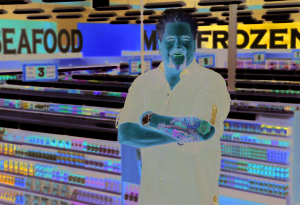 Guy Fieri hosts "Guy's Grocery Games"
When disaster strikes, you can always count on Guy Fieri.
No, really, hear me out. Fieri has always been a big supporter of the nation's first responders.
When the North Bay fires hit Santa Rosa in 2017, Fieri -- himself an evacuee -- set up a barbecue and fed 5,000 displaced residents, military personnel and firefighters per day. Online haters were quick to pile on Fieri for using a smoker while wildfires raged, but they missed the point: Fieri simply showed up and helped out, and it wasn't done for the benefit of any cameras.
During last summer's Carr Fire, the seventh-most destructive fire in the nation's history, Fieri teamed up with fellow chef José Andrés to help out. His team served an estimated 2,000 meals per day during the disaster.
And he was back at it in November 2018 to feed and support firefighters battling Camp Fire, the deadliest and most destructive U.S. wildfire to date.
What does this have to do with TV? This Wednesday, Sept. 18, the Mayor of Flavortown plays host to some fearless California firefighters in a new episode of Food Network's "Guy's Grocery Games."
This week's competitors are challenged to make a "firehouse favorite" in the first round, and a spicy family meal in the second one. And in the end, one firefighter has the chance to win $20,000.
This isn't the first time firefighters have participated in "Guy's Grocery Games." In fact, the show seems to be Fieri's way of showing support for good people and good causes, whether he's inviting veterans and Make-A-Wish families to tapings or spotlighting a competitor's cause on air.
And I'm not even talking about all the causes and charity events that Fieri is personally involved with or supports.
In fact, even the set of "Guy's Grocery Games" is designed to generate goodwill. The 15,000-square-foot location in Santa Rosa is set up like a working grocery store, complete with 241 varieties of produce, 67 varieties of meat and 442 pounds of seafood. But any item damaged during filming or nearing the end of its shelf life is donated to the local mission or a food program before it spoils. Per Food Network, that amounts to roughly 30,000 pounds of donated food per season.
And that's another reason why in Sonoma County, and in the eyes of many California firefighters -- like the ones competing on this week's "Guy's Grocery Games" -- Fieri is one of the good guys.