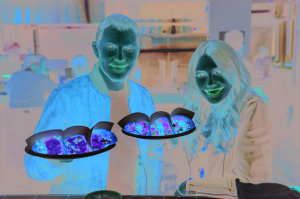 Bobby and Sophie Flay as seen in "The Flay List"
It's old meets new in Food Network's latest series. Not that I'm calling chef Bobby Flay old -- he's definitely not -- but his new series pairs him with his daughter, Sophie, and follows the older and younger generations of Flays as they team up to sate their hunger in New York City.
"The Flay List" premieres Thursday, April 11, on Food Network, and it's a tasty romp through the Big Apple. Both generations of Flays have a list of their favorite eateries, and each is eager to share their chosen hot spots with the other. New York is their hometown, and Bobby has been frequenting the same culinary establishments for years, so he's champing at the bit to share them with his daughter, but Sophie has been gaining some delicious experience of her own.
Over the series' six episodes, Bobby and Sophie hit up both popular and little-known places, and while Bobby may be the expert, Sophie holds her own as she introduces him to a number of up-and-coming joints. They sometimes deviate from their lists to visit some other interesting New York eateries, like the always busy Chelsea Market where they share some tacos at the iconic Los Tacos No. 1.
Bobby's list includes his favorite place to get a creamy Italian dessert, a restaurant where he spent a lot of time early in his career, a burger joint that he's head over heels in love with and an old-school steak house that serves up unforgettable meals.
As for Sophie's list, it's packed full of finds that she's excited to share with her dad. She takes him to a Mexican place in Brooklyn that's serving incredible tacos, a trendy spot with down-home cooking that specializes in chicken and waffles, and a pizza joint that makes Detroit-style pies to die for.
Bobbie's old favorites meet Sophie's trendy new ones as both generations of Flays explore New York City's culinary scene together. "The Flay List" premieres Thursday, April 11, on Food Network.