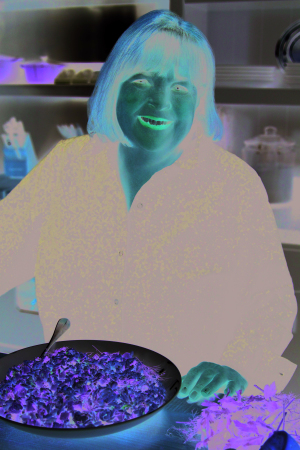 Ina Garten stars in "Barefoot Contessa: Cook Like a Pro"
For years, we've watched and listened carefully as Ina Garten has taught us how to master everything from roasted chicken (made with garden-fresh herbs, naturally) to the cheesiest, creamiest mac and cheese.
This week, the "Barefoot Contessa" returns to share more new recipes and tips. A new season of "Barefoot Contessa: Cook Like a Pro" kicks off this Sunday, Oct. 27, on Food Network, and we can expect more great tutorials that will allow home chefs of all levels to, er, cook like a pro (hence the title).
The season premiere episode is titled "Store-Bought Is Fine," and that sums it up nicely. Garten shows us how store-bought ingredients are perfectly fine shortcuts to making party-worthy entrees and sweets. She'll prep her Raspberry Baked Alaska with Fresh Raspberry Sauce before going over the steps to making Turkey Sandwiches with Brussels Sprouts Slaw. Garten then digs into her own pantry to put together a Sweet Red Pepper Hummus after revealing the secret to her Roasted Eggplant Parmesan: jarred marinara sauce.
It's an interesting concession after years of hearing celebrity chefs proclaim that "made from scratch" is the only way to go. Sandra Lee took a lot of flack for recipes that were heavily based on store-bought ingredients. In a pinch, I used ready-made pie dough for a big dinner once and I sat there feeling like it was a shameful, dirty little secret. But there was nothing wrong with that pie -- I had become a food purist because I thought you had to be, and that isn't the right way to look at food.
Good food is good food, whether you prepare it from scratch or not. Besides, who has time to redo a batch of failed homemade mayonnaise when you literally have bigger fish to fry? (Mind you, I still prefer home-rendered lard for savory recipes like corn tortillas. Give it a try if you have the time.)
All of that ties nicely to Garten's key message: learn the techniques, work with good food, and do it with confidence (and love). She should know -- she taught herself how to cook the way many of us have, by poring over cookbooks and mastering all the pro techniques on her way to building a food empire (OK, that part still eludes me).
Today, Garten is the New York Times bestselling author of 11 cookbooks, including her most recent one, 2018's "Cook Like a Pro." And she'll soon be adding to that count: Garten is reportedly working on a memoir that will likely launch sometime in 2023. But you don't have to wait that long for new ideas and stories from Garten -- just tune in to new episodes of "Barefoot Contessa: Cook Like a Pro," airing Sundays on Food Network.