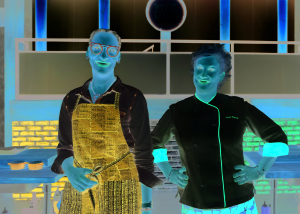 Carla Hall and Anne Burrell as seen in "Worst Cooks in America"
This is the time of year when the words "Boot Camp" seem to casually pop up in ads and conversations, and it usually has to do with our New Year's resolutions.
January is the biggest month for fitness boot camps and weight-loss boot camps, and for culinary boot camps, too, given that this is when a new season of "Worst Cooks in America" usually rolls out on Food Network.
Sure enough, Season 21 of "Worst Cooks in America" premiered last Sunday (Jan. 3) and it continues this week. If you missed last week's 90-minute premiere, know that the show's premise is the same: 14 of the nation's worst cooks have been split into two teams and must battle their way through an elimination-style boot camp led by two celebrity chefs. The last one standing gets the $25,000 grand prize, while the team leader gets bragging rights.
The winningest team leader, of course, is perennial Red Team leader (and Cheetos fan/spokesperson) Anne Burrell, who has appeared in every season of "Worst Cooks" so far. She has 12 wins to her name, and you can be sure she's looking to add to that total in 2021, which should be a big year for the recently engaged chef.
Who's standing in Burrell's way? Blue Team mentor Carla Hall and her team of "kitchen disaster" recruits.
Hall, who has been popping up lately in shows such as "Crazy Delicious" and "Halloween Baking Championship," is new to "Worst Cooks." She took over from Iron Chef Alex Guarnaschelli, whose teaching ability and comedic banter made a big impression on audiences last season — so big, in fact, that many called Season 20 one of the best seasons to date. (Don't worry, Alex fans — you can still get your fix with episodes of "Supermarket Stakeout.")
Another new addition this year is the weekly companion series, "Worst Cooks in America: Dirty Dishes," which viewers got a first taste of last week. Consider it the Food Network version of TLC's "90 Days Fiancé" reaction show (after all, Food Network and TLC are both owned by parent company Discovery, Inc.). After each new weekly episode of "Worst Cooks," stay tuned to see reactions from past recruits, celebrity recruits and comedians, who will dish the dirt on all the funniest moments.
In last week's 90-minute premiere, the recruits introduced themselves by preparing their favorite homemade dishes and, once they were divided into teams, they were tasked with replicating Asian takeout dishes. Other contests this season will include a farm-to-table challenge, an all-seafood skill drill and a fast-paced, breakfast-themed game.
If you're already hooked on this new season of "Worst Cooks in America," mark your calendars — the season continues Sunday, Jan. 10, and the big finale is set to air on Sunday, Feb. 28.