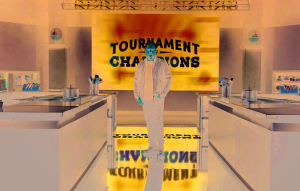 Guy Fieri hosts "Tournament of Champions"
We're into March, which means it's time for a certain single-elimination tournament to capture our attention.
If you're a sports fan, your first thought might be March Madness. And while there are some similarities (mostly the bracket-style format), I'm actually referring to Food Network's new five-episode competition series, "Tournament of Champions," which begins Wednesday, March 4.
Hosted by Guy Fieri, "Tournament" will see 16 of the most celebrated chefs battling it out in various challenges that get progressively tougher with every round.
These competitors are not only racing against the clock, they're also going into this blind: They don't know who their competitors are (but we do), they don't know what the challenges involve, and, in some rounds, they'll be forced to use some specialized tools or unusual ingredients.
So who are the competitors? There are a few familiar faces and names, such as Alex Guarnaschelli and Rocco DiSpirito, and some "under-the-radar talent" (per Food Network), too. The bracket is split into two regions, East and West, and each challenger is seeded by rank in their region as they battle it out.
At the end of each round, you're not going to see the chefs appear before a judging panel, à la "Chopped." "Tournament of Champions" will use a blind judging system: The judges don't know who's competing because they're completely removed from the competition area and their decision will be based solely on the plates put before them.
Star power and name recognition aren't competitive advantages in this competition. But Fieri knows exactly who's competing, since he and fellow commentators Justin Warner and Simon Majumdar will shadow a chef during each round.
Food Network greenlit the series back in October, when it invited Fieri fans to submit their challenger nominations via social media. It only took a week for the video post to garner more than a million views. Production was completed in December, but Food Network has kept fans engaged every step of the way -- in fact, just last month fans were invited to fill out their bracket for a chance to win weekly prizes and to share their predictions for how the tournament will unfold.
Round 1 of "Tournament of Champions" begins this Wednesday, and time management will be key in the three matchups. A randomizer (a slot machine-like contraption) will determine each challenge, from a key ingredient to a specific cooking style or reduced prep time, and that could set things up for a memorable March Madness-like upset.