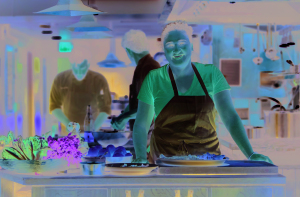 Samin Nosrat hosts "Salt Fat Acid Heat"
If you've spent a lot of time at home in the past few months, you've probably felt like you were watching more TV than ever. And if you're one of the 69 million Netflix subscribers in North America, you might feel like you've seen everything there is to see. But that's probably not the case, given the thousands of titles in Netflix's library (that would involve some serious binge-watching).
Look up any of the countless "Best of" and "What to Watch" lists online and you might notice one Netflix food show that has been repeatedly singled out for its upbeat tone. The 2018 series "Salt Fat Acid Heat" is quickly becoming a new food classic, though it seems odd to use the word "series" when it consists of just four episodes. It's based on the 2017 award-winning cookbook of the same name and features the author, New York Times columnist Samin Nosrat, whose infectious spirit and practical advice make her an ideal guide for exploring these pillars of great food.
The key to this food travelogue's enduring popularity is the host's down-to-earth approach: you never doubt Nosrat's skills and know-how, but she is careful to keep the focus on local knowledge of food traditions. As a result, the viewer doesn't feel like they're getting a brief glimpse of a meal they'll never taste or a world they'll never be part of -- it all seems accessible in "Salt Fat Acid Heat." And that's important to San Diego-born Nosrat, who, as a child of Iranian immigrants, has often talked about feeling like an outsider caught between two cultures.
But with just four episodes, it's understandable if "Salt Fat Acid Heat" leaves you craving more. If podcasts are your thing, Nosrat kept herself busy in isolation by co-hosting "Home Cooking" with Hrishikesh Hirway. What do you do with dried beans? Plenty, it turns out, and there's an episode for that -- you'll find it at homecooking.show or though the link on Nosrat's website, ciaosamin.com. Got a question about cooking? They want to hear it. What's the best lasagna recipe? Nosrat devoted weeks to perfecting it before presenting her winning recipe in a May 3 Instagram Live cooking session.
What if you still want more? Nosrat announced that a second cookbook, "What to Cook," is in the works, though there's no official word on when it might be hitting shelves (not yet, anyway). Until then, rest assured that Netflix won't judge you for watching "Salt Fat Acid Heat" just "one" more time.