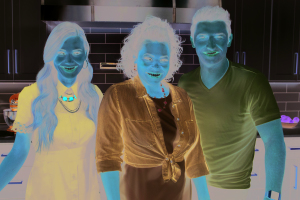 Brandi Milloy, Jamika Pessoa and Stuart O'Keeffe host "Let's Eat"
When it comes to cooking, there are the timeless classics that every basic cookbook and how-to culinary show tries to teach. But what if you're a humble home cook who wants to replicate that amazingly complex dish that you had while out at a restaurant? Or what if the latest food fad has you interested, but the actual steps behind making it leave you scratching your head?
No need to worry -- Food Network's newest show has you covered. "Let's Eat" premiered last week and currently airs Sunday mornings. Three talented hosts and a ton of special guests check out all that is current in the culinary world, and they break down the latest trends into easy-to-follow steps while sharing their best tricks, tips and recipes.
"Let's Eat" is hosted by Irish celebrity chef Stuart O'Keeffe, who starred in "Private Chefs of Beverly Hills," YouTube channel "POPSUGAR Food: Eat the Trend" host Brandi Milloy and former "Food Network Star" contestant Jamika Pessoa. Together, the trio teaches audiences the latest in innovative cooking techniques that make time spent in the kitchen easier, faster or just more creative. Whether it's a classic chicken pot pie that boasts a tater tot crust or hush puppies stuffed with bacon, cheddar and jalapeno, these three aren't afraid to take shortcuts or mess with traditional dishes so long as the end result is wow-worthy.
The hosts aren't tied to their kitchen, either. They frequently head out to restaurants that are home to dishes that have gone viral, where they dive into the secrets that have made them so popular and meet with their creators, getting tips for making them straight from the mouths of the chefs that know them best.
Much like fashion, food trends come and go, and it can be hard to keep up with not only the latest hot dishes but also the cooking techniques used to make them at home. Luckily, "Let's Eat's" three hosts are doing the legwork so that home cooks can focus on what's important: presenting absolutely beautiful and mouthwatering dishes. "Let's Eat" currently airs Sundays on Food Network.