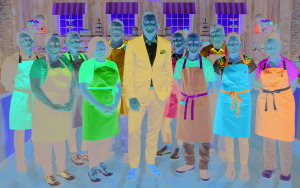 Host Clinton Kelly with the "Spring Baking Championship" contestants
Spring is in the air! For those of us who live in more northerly climes -- you know, those places that have spent the past few months buried under several feet of snow -- it's an exciting time with longer days, returning birds and melting snow, but even folks in the balmy south get the pleasure of one particular sign of the season: the return of "Spring Baking Championship."
The Food Network series, which premieres Monday, March 18, always blooms at this time of year, and it's kind of a big deal. The show, along with the network's other seasonal competitions, is a huge ratings hit, and last season it attracted the biggest audiences in its history.
Spring is all about renewal, and this year's "Spring Baking Championship" takes that to heart by welcoming a new host. Fashion consultant and former "The Chew" presenter Clinton Kelly takes the position this year, taking over from "Cheap Eats" host Ali Khan. At the judges' table things are more familiar, with Nancy Fuller, Duff Goldman and Lorraine Pascale returning to the positions that they've held since the very first season.
Ten bakers enter the kitchen in this week's premiere, and for their first challenge, they're tasked with making sumptuous spring animal-themed doughnuts. Then, once the judges have had their first taste of what the competitors are capable of, the bakers are asked to bring out their inner artists to make and decorate gorgeous watercolor cakes featuring scenes of iconic spring fruits and vegetables.
Sadly, this is a competition, and only one baker can ultimately win the title of Spring Baking Champion. At the end of the episode, the worst-performing baker is sent packing by the judges, but the relief is short-lived for the remaining competitors. Throughout the competition, they are asked to bake ribbon-worthy rhubarb pies, make marshmallow desserts for Easter and even participate in a tart-filled spelling bee.
Spring really is in the air, and the air has the scent of delicious baked goodies. "Spring Baking Championship" premieres Monday, March 18, on Food Network.