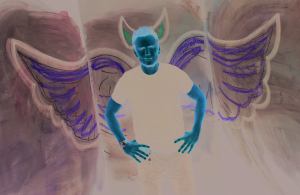 Joel McHale is a celebrity guest on "Fast Foodies"
Celebrities: they're just like us — at least that's what the tabloids tell us whenever they run photos of celebs on a food run or putting gas in their cars. There are plenty of photos of Ben Affleck ("Gone Girl," 2014) with some Dunkin' iced coffee or the Kardashians eating Popeyes to know that celebrities love fast food, too. But have you ever wondered which menu items leave them wanting more?
Wonder no more. Premiering Thursday, Feb. 4, on truTV, the new cooking competition series "Fast Foodies" is the kind of show that will resonate with anyone who's ever tried to recreate Big Mac sauce or a Krispy Kreme glazed doughnut at home. But, of course, there's a celebrity twist.
In each of the 10 episodes, viewers will watch as "Iron Chef" winner Justin Sutherland and "Top Chef" winners Kristen Kish (Season 10) and Jeremy Ford (Season 13) are challenged to recreate a celebrity guest's favorite fast-food item — from double burgers to (gasp) Hawaiian pizza — and replicate it as closely as possible before reimagining it in a whole different way.
Despite the fact that the three chefs are vying to win the "coveted" Chompionship Trophy, "Fast Foodies" has none of the intensity of "Top Chef" or "Chopped," and that's intentional. "Honestly, we think this is a series that people have been craving — a cooking show where the food is relatable and inspirational while also being hilarious and not full of itself," executive producer Michael Rucker said. "With Kristen, Jeremy and Justin, we found three hosts who are not only lovers of fast food and magician chefs in the kitchen, but alongside our celebrity guests, they know how to throw a hilarious dinner party that you won't soon forget."
There should be plenty of comedic moments, thanks to a roster of celebrity guests including Joel McHale ("Community"), James Van Der Beek ("Bad Hair"), Andy Richter ("Conan") and Amanda Seales ("Insecure"). Other guests will include Ron Funches ("Top Secret Videos"), Charlotte McKinney ("Fantasy Island"), Kevin Heffernan and Steve Lemme of "Tacoma FD," Fortune Feimster ("Sweet & Salty"), Davionte "GaTa" Ganter ("Dave") and Bobby Lee ("Splitting Up Together").
Will "Fast Foodies" live up to its billing as a show that is "equal parts food, comedy and raucous debauchery" (per Corie Henson, head of unscripted programming for TBS, TNT, and truTV)? Find out this Thursday when the new cooking series begins its run on truTV.