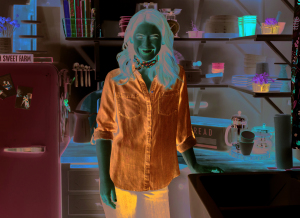 Molly Yeh hosts "Girl Meets Farm"
There are some big differences between country life and city life, that's for sure, and those differences are most obvious to the folks who've lived in both places. Bestselling cookbook author and food blogger Molly Yeh has discovered something that country folk and city folk have in common, though: a love of good food.
The acclaimed writer's new show, "Girl Meets Farm," premiered last week on Food Network and has new episodes airing Sundays. A transplant from the big city suburbs to a quiet life on the Minnesota-North Dakota border, Yeh has fallen in love with the quieter, slower-paced lifestyle, and she's invited TV viewers into her farmhouse to join her as she prepares a range of delicious dishes inspired by her Jewish and Chinese heritage blended with the flavors of the Midwest.
In this week's episode, airing Sunday, July 1, the host puts her own fresh spin on a traditional lunch on the farm. With big meals for breakfast and dinner, lunch is light and designed to be eaten in a hurry. She shares her recipe for a quick and easy challah bread, which she serves alongside an equally simple chopped salad with crumbled feta and her own delicious and creamy homemade hummus.
In next Sunday's episode, the host treats her friends to brunch the morning after a fun night out in the city. Mini quiches are on the menu, made with bacon and peas, and she prepares a dark chocolate scone loaf with marzipan to satisfy her sweet tooth.
It's an eclectic mix of flavors, but that comes from the many culinary influences in Yeh's life. She grew up in Chicago's suburbs with a Jewish mother and Chinese father, spent several years living in New York City and finally settled in the upper Midwest with her husband. Her cookbook, "Molly on the Range," is an award-winning bestseller, while her lifestyle blogging site "my name is yeh" has been recognized and awarded by the New York Times, New York Magazine, Yahoo, Saveur and Food & Wine. She was even on Forbes' "30 Under 30" list in 2017.
"Girl Meets Farm" currently airs Sundays on Food Network.