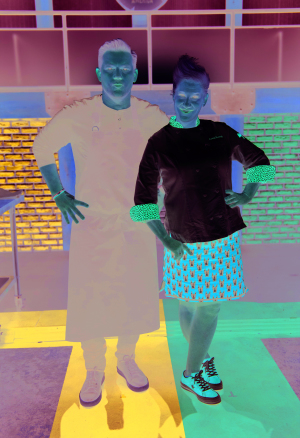 Tyler Florence and Anne Burrell host "Worst Cooks in America"
Keep those fire extinguishers close, chefs Anne Burrell and Tyler Florence are back with a fresh batch of culinary dunces who are eager to learn a thing or two about how to succeed in the kitchen. "Worst Cooks in America: Celebrity Edition" returns to Food Network for a fifth season on Sunday, April 21.
Just like its non-celebrity parent, the premiere features a batch of recruits -- in this case, all celebrities -- who are the sort of folks who have trouble boiling water. With a little help from chefs Burrell and Florence, they'll be whipped into shape over the next few weeks and transformed into cooks who are more than capable of preparing a restaurant-quality meal for a panel of judges.
Wait, did I say "with a little help?" I should probably rephrase that: these people need a lot of it. Luckily, the chefs both have the competition to drive them, and each instructs a team of celebrity kitchen disasters. Every week, both chefs drop the worst-performing member of their team, and when it's finally time for the finale, the two remaining trainees go head to head in a cookoff, with the one who prepares the better meal earning $25,000 for the charity of his or her choice.
This year's celebrity lineup is a diverse one. Controversial former Olympian Tonya Harding, actor Jim J. Bullock ("Spaceballs," 1987) and actress Morgan Fairchild ("Days of Our Lives") are just a few of the famous folks eager to learn some culinary basics from the two accomplished chefs.
In this week's premiere, the recruits enter boot camp and are immediately handed their first challenge: to recreate their favorite restaurant dishes. After the chefs have had a chance to watch how the recruits perform in the kitchen and taste their food, they stage a ceremony inspired by awards shows in which they reveal who they've chosen to be on their teams.
It's all in good fun, but the celebrities really do learn a lot about how to cook, and in the end, one lucky charity receives a hefty donation. The latest season of "Worst Cooks in America: Celebrity Edition" premieres Sunday, April 21, on Food Network.