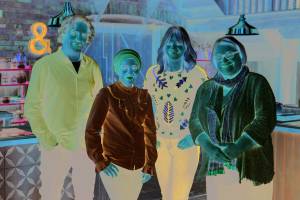 Giorgio Locatelli, Nadiya Hussain, Zoe Ball and Rosemary Shrager in "The Big Family Cooking Showdown"
From celebrity chefs and how-to shows to food travel adventures and a little friendly competition, the one thing we all have in common is food. We all have to eat and, more than that, so very many of us love to do it. More often than not, that love for food and tradition begins and grows at home with the family. So, what better way to get in the spirit of Thanksgiving than to surround yourself with food and family by watching "The Big Family Cooking Showdown"?
With two seasons available now on Netflix, this British cuisine competition series first aired on BBC Two in 2017 and gave fans of its affiliate, "The Great British Bake Off," yet another gripping food-based reality show to follow. Hosted by popular radio and television presenter Zoe Ball ("Strictly Come Dancing Live Tour") and Season 6 GBBO champion Nadiya Hussain, and featuring TV personalities and chefs Angellica Bell, Giorgio Locatelli, Rosemary Shrager and Tommy Banks as the esteemed panel of judges, this cook-off is especially delicious because of its "Family Feud"-esque twist: in each episode, two families compete against each other for the best meal. As the season approaches its finale, the winning families from each episode move on to the semifinals, while those champions go on to become one of four team finalists in the season's crowning finale.
Serving up everything from classic British meals, such as pasta bake, fish and chips and Sunday roast, to extravagant three-course meals, each of these family teams must put their own unique twist on the dish and bring something special to the table if they want to win. And while the beautifully etched wooden cutting board is a good incentive to dominate the competition, getting to share the whole experience with your family is truly something to be thankful for.
Both seasons of The Big Family Cooking Showdown are ready to stream now on Netflix.