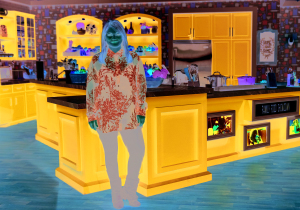 Valerie Bertinelli hosts "Family Food Showdown"
It's been said that a family that cooks together sticks together. Those are some wise words, and after checking out Food Network's newest competition series, I think that an extra line could be added: a family that cooks together can also win together.
"Family Food Showdown" premiered a few weeks ago on Food Network, and you can catch a new episode on Sunday, March 24. It pits families against each other in a series of challenges intended to test their culinary mettle. It not only puts cooking abilities to the test, but also family dynamics, thanks to a delicious twist that forces each competing family to bench one of its members after the first round of competition.
Actress Valerie Bertinelli ("Hot in Cleveland") serves as the host and overseer of the competition, and this Hollywood star is no dunce in the kitchen herself. She's become a Food Network staple over the past few years, hosting her own show ("Valerie's Home Cooking") and co-hosting "Kids Baking Championship" alongside cake artist Duff Goldman.
Each episode finds two families -- each composed of three members -- eager to go head to head with their favorite family recipes. In the first round, the teams are challenged to make a dish that really represents who they are as a family. Easy enough -- but things get more complicated when each team must eliminate one of their own family members before heading into the second round.
That little twist brings in a whole new level of strategy to what could otherwise be a pretty standard cooking competition. But wait -- it gets even more strategic. Before the third and final round of cooking begins, each family must choose another family member to bench -- but this time, they're choosing someone from the other team.
So far the series has seen families challenged to make Mother's Day meals, tasked with preparing surf-and-turf dishes and asked to make their best rice dishes. No family member wants to be seen as the weakest link and get benched early on in the competition -- but everyone also wants their family to take home the win. Watch the family cooking drama play out in "Family Food Showdown," now airing Sundays on Food Network.