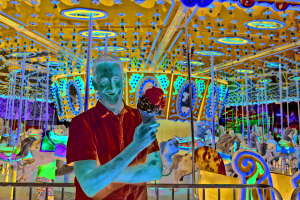 Noah Cappe hosts "Carnival Eats"
Growing up in a small town, I remember my excitement at seeing a carnival pop up for one glorious summer weekend each year. All those rides, all that food ... this is why I think happiness smells like funnel cake.
So imagine if your job required you to visit every fair, midway and carnival in North America to find the most interesting foods. That's what Noah Cappe does. And he's found enough crazy/tasty concoctions to fill a whole new season of "Carnival Eats," which returns Sunday, Aug. 4, on Cooking Channel.
Forget sticky cotton candy and popcorn -- this series is about the exotic. It's a self-described celebration of "today's modern gastronomic freak show," and if that sounds harsh, it's just a reflection of Cappe's enthusiasm for over-the-top bites and deep-fried anything that prove fair foods are the main attraction.
Sunday's episode starts off in Winchester, Virginia, at the Shenandoah Apple Blossom Festival. Cappe starts with the most important meal of the day and samples a Cowboy Breakfast, and later ends his day with Caramel Apple Tots. His next stop? Sunny California and the Santa Barbara Fair and Expo, where Noah gamely tackles the 5 Pounderito and an ice cream "Funnelwich."
Cappe was recently at the Calgary Stampede, where he served as host and judged food competitions (the "I'm kind of a big dill" category spoke to my love of pickles and puns). While that may not be featured this season, you can expect to see Cappe sampling things like Hawaiian-style fried dough, apple cheesecake quesadillas and a strawberry crisp corn dog (wait, what?) in upcoming episodes of "Carnival Eats."
It all sounds decadent, but fair foods have always been about one-time indulgence. So this show isn't necessarily one for the calorie counters. Or maybe it is, since Cappe is doing all the sampling and we just get to watch.
That's not to say you can't make healthier choices while enjoying the fair. If you don't have dietary restrictions but want to avoid consuming a day's worth of calories, sugar and sodium in a single sitting, keep it simple. Don't load up on toppings. Limit your portion size and opt for things like grilled lean meats and fruit skewers.
Or do like I do: tune in to shows like "Carnival Eats" to inspire your next cooking challenge and create a healthier version at home.