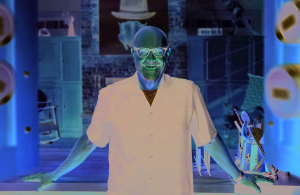 Alton Brown hosts "Good Eats: Reloaded"
Alton Brown is one of the main faces of culinary TV these days, with his competition series "Cutthroat Kitchen" bringing out his diabolical side and the revived "Iron Chef America" letting him share his vast wealth of culinary knowledge. It was a little show called "Good Eats," however, that first introduced him to audiences during its run from 1999 to 2012.
Well, "Good Eats" is coming back, with Brown revisiting 13 classic episodes and giving them a new coat of paint in "Good Eats: Reloaded," which premieres Monday, Oct. 15, on Cooking Channel. With more than 240 episodes in the "Good Eats" vault, there's a ton of material to work with. The host has dug around and pulled out some of his favorites, giving them a rework, fixing some of their issues that he wasn't completely satisfied with the first time around, and incorporating the latest in food science to modernize them.
"Recording artists remaster albums, directors recut films, classic buildings are renovated, and now I'm finally getting a chance to update some classic 'Good Eats' episodes," Brown said when announcing the updated episodes. The "Reloaded" series mixes old footage with new, and features sleek, modern production values that should bring the show up to contemporary cooking series standards.
It's hard to understate just how beloved "Good Eats" is for a lot of people. The show combines food science, skits, humor, pop culture and innovative cooking techniques to create a unique experience. Unusual camera angles, a fast pace and the occasional belching puppet made it feel completely different from any other cooking show on TV when it premiered in 1999, and this uniqueness is what first made it stand out.
Of course, its staying power -- it remains the third-longest-running series in Food Network's history -- came down to two things: its host and the approach that it took to food. Brown didn't just show people how to cook, he dug into the whys and the hows, demystifying the science behind foods and explaining why ingredients behave the ways that they do.
Fun and facts collided for 14 seasons in "Good Eats," and now Alton Brown is remastering his favorite episodes. "Good Eats: Reloaded" premieres Monday, Oct. 15, on Cooking Channel.