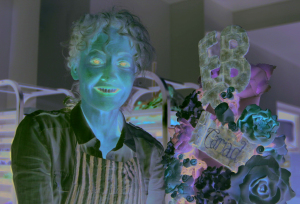 Contestant Tracey as seen in "Extreme Cake Makers"
Christmas is almost upon us, and it's a busy time of year for bakers. Whether a professional with culinary school training or a home baker who bakes for friends and family, bakers of all stripes are busy blending, whisking and kneading as they whip up incredible festive favorites.
For the bakers in Cooking Channel's "Extreme Cake Makers," the holidays really aren't that different from the rest of the year -- they're still pulling out all the stops to make some of the most fantastical cake creations that can be imagined. Currently airing Friday evenings, each episode of the British import follows several U.K.-based bakers as they create amazing edible treats that have to be seen to be believed.
This week's episode, airing Friday, Dec. 21, is all about -- you guessed it -- Christmas. The master cake makers are hard at work as the holiday season gets into full swing, with one of them crafting an edible reindeer that would make Santa Claus himself proud. Meanwhile, bakers Christine and Phil plot out a way to make immaculately detailed cake presents, and then work on mastering the meticulous details required to bring the Christmas cake magic to life.
Baker Eloise is in the holiday spirit, too, and she creates a cake that's filled with local landmarks to celebrate the Christmas season in her hometown. Meanwhile, cake master Molly branches out into gingerbread as she builds a gingerbread house masterpiece that creates a perfect fairy-tale ending.
Things get back to normal once Christmas is past, and in next week's episode, things get royal. While Rosie bakes a life-size Prince Charming cake, Phil and Christine bake for a real-life prince when Prince Charles himself gives their creations his royal approval. Now that's an honor that any baker can be proud of!
There are plenty of baking shows on TV, but "Extreme Cake Masters" stands out from the crowd, thanks to its quintessential Britishness. Join some of the best bakers in the business as they get into the Christmas spirit in the holiday episode airing Friday, Dec. 21, on Cooking Channel.