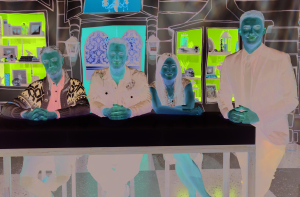 Sean Gunn, Todd Tucker, Shinmin Li and Jonathan Bennett in "Halloween Wars"
A Halloween tradition is back for even more scares, and this year it's brought friends. Every fall, "Halloween Wars" spooks audiences with its incredibly sugary creations, and this year's competition, which premieres Sunday, Sept. 30, on Food Network, promises to deliver.
Actor Jonathan Bennett ("Mean Girls," 2004) is back to host the competition that sees six teams building incredibly elaborate, detailed and spooky edible displays that definitely put the "treat" in "trick or treat." Each team is made up of a cake artist, a sugar master and an expert pumpkin carver, and over the series' five episodes they're tasked with making more and more displays that have to taste as good as they look.
Of course, every competition needs some judges, and this year's panel is comprised of horror film special effects master Todd Tucker and celebrated cake decorator Shinmin Li. A rotating panel of guest judges rounds out the panel, with Sean Gunn ("Gilmore Girls"), Gaten Matarazzo ("Stranger Things") and director Mick Garris ("The Stand") all taking a turn.
This year, the trick-or-treating has managed to snag some extra treats. Immediately before Sunday's premiere, "Road to Halloween Wars" goes behind the scenes to give audiences a look at just what goes on in the lead-up to the series. From around the globe, some of the most skilled cake, pumpkin and sugar artists hone their ghoulish genius in hopes of wowing the judges and scaring off the competition.
Then, following Sunday's premiere, there's even more sweet treats with "Halloween Wars: Even More Monstrous Scares." The special takes a look back at some of the most memorable displays in the show's history, revisiting the terrifying witches, ghosts, werewolves and vampires that have graced the series since its first competition back in 2011.
That's three hours of Halloween trickery in one night, and there's a reason that "Halloween Wars" is such a seasonal favorite. The edible displays really are visual masterpieces, and with $50,000 up for grabs for the winning team, the competition is fierce. "Halloween Wars" premieres Sunday, Sept. 30, on Food Network.