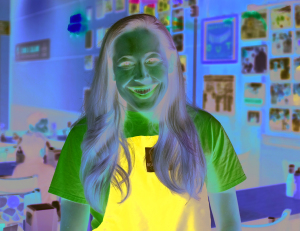 Ashley Foxen from "Reality Cupcakes"
If you're someone who watches any of the myriad of cake-centric shows on television right now, it'll come as no surprise to hear that cakes that look uncannily like anything but desserts are so hot right now. Cakes that have been sculpted and iced to look like famous people, sports trophies, animals and cartoon characters are everywhere you look, taking "edible art" to a whole new level.
It isn't just cakes receiving this special treatment -- their little cousins are getting in on the action, too, and in "Reality Cupcakes," one of the most talented cupcake artists in the country whips up little beauties that look like anything but tasty sweet confections. Beware: that may look like a juicy steak or a sushi roll on the plate, but if New York baker Ashley Foxen is in the kitchen, then diners are in for a surprise with their first bite.
In the first of this week's back-to-back episodes, airing Monday, Aug. 27, on Food Network, Foxen invites the TV cameras into her business as she bakes and decorates incredible steampunk cupcakes for Coney Island's famous Mermaid Parade. Later, she decorates cupcakes to look just like miniature po'boy sandwiches that are served up at an outdoor food festival in Brooklyn.
The night's second episode finds Foxen making cupcakes for a 1950s greaser-themed party, and for an event like that there's really only one thing that the cupcakes can look like: milkshakes! Later, pretzel-shaped cakes are on the menu for a group of sports fans, and she even makes a dessert that's a rather morbid spitting image of one of the Founding Fathers.
Of course, Foxen doesn't run her business alone. In fact, it's a family affair, with her mom Denise, sister Lindsay and brother Alex all helping her create cupcakes that are capable of fooling even the closest of inspections.
Her business may be a small family-run affair, but Ashley Foxen is whipping up some of the most incredible cupcakes that New York has ever seen. Follow her and her creations in "Reality Cupcakes" on Monday evenings on Food Network.