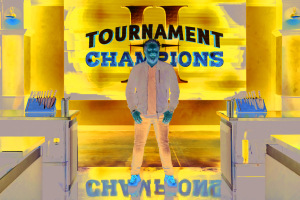 Guy Fieri hosts "Tournament of Champions II"
Ready for March Madness? NCAA's Selection Sunday is less than a week away, but over on Food Network, the competition is about to get started — and it's going to be intense.
"Tournament of Champions" is back following a successful debut last year, and the new "Tournament of Champions II," which kicks off on Sunday, March 7, is similarly billed as the "toughest bracket-style culinary competition" around.
Once again, host Guy Fieri has rounded up 16 top chefs — a mix of famous faces and noteworthy talent — who will go head-to-head in a series of sudden-death cooking competitions.
The competitors are split into two groups based on their home region. Those representing the East Coast are Madison Cowan, Maneet Chauhan, Darnell Ferguson, Amanda Freitag, Marc Murphy, Christian Petroni and Bryan Voltaggio. As for the West Coast chefs, they are Cat Cora, Antonia Lofaso, Brian Malarkey, Aaron May, Jet Tila, Michael Voltaggio (brother to the East coast's Bryan Voltaggio) and Brooke Williamson, the defending champion.
Each one has been ranked and seeded within their region, but if you'd like to try your hand at building the perfect "Tournament of Champions" bracket, check out Food Network's Twitter feed from March 14 to 21 for a chance to win up to $5,000 in prizes.
So what's new for this year? If you counted all the names of the competitors, you'll notice that only seven are listed for each region. A wild card play-in will determine the last two seeds from a field of eight chefs, and there's a new donation incentive for the bracket victors.
At the top of each 90-minute episode, the randomizer machine will determine battlefield parameters: ingredients, cooking styles, equipment options and time limitations. And forget "Chopped" or "Iron Chef" — this is a blind competition. To ensure an even playing field, the judging panel is sequestered until the battle is over and the chefs have vacated the "arena." In fact, the judges don't even know who is competing, so their verdict is based entirely on the plates before them.
The ultimate winner will be decided in a two-hour episode airing Sunday, April 18 (they'll also get to drive home in a new SUV), but a lot can (and will) happen before that — "Tournament of Champions II" begins Sunday, March 7, after a special look back at the highlights from last year's competition.