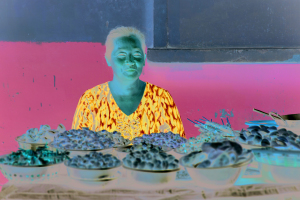 A scene from "Street Food"
Still dreaming of your next food adventure? It's been a summer of travel-free or limited adventures for most of us, but that pent-up wanderlust still needs an outlet from time to time. And whether it's escapism, nostalgia or hopeful planning, TV viewers are still craving pre-pandemic-style travel content.
Luckily, Netflix's binge-friendly release method means its productions tend to be completed farther in advance than network TV. In fact, the streamer's 2020 slate of original series and films hasn't been greatly impacted by the production shutdown. And that's why you're still seeing lots of new options popping up in the Netflix library, including the new season of "Street Food" that dropped last month.
"Street Food" is from the same creative team behind "Chef's Table," so you know what you're getting: glossy footage and close-ups, beautiful imagery and an emphasis on storytelling.
But instead of renowned chefs and Michelin-worthy fine dining, "Street Food," as the title implies, takes its cameras and crew to the streets. It's more interested in good food cooked for the people -- the meals prepped and served in stalls, carts and open-air markets -- and in the everyday chefs who have a very personal connection with their food.
Season 1 premiered back in 2019 and features stops in nine Asian cities. Each half-hour episode profiles up to four different vendors; it delves into their backstory, personal struggles, food specialties and the city's culinary traditions, all while the locals prepare their on-the-spot eats and on-the-go treats.
The newest season, "Street Food: Latin America," features the same approach but on a different continent. There are six episodes in all, and the stops are in Argentina, Brazil, Bolivia, Colombia, Mexico and Peru. From Oaxacan tlayudas to Lima's Japanese-Peruvian fusion cuisine, the food fare is a drool-inducing feast for the eyes, and admittedly, it feels a tiny bit cruel given the travel restrictions that are still in place in many countries.
The look and feel of "Street Food" is reminiscent of an Anthony Bourdain-less "Parts Unknown," with food shots mixed with snapshots of community life. Creators David Gelb and Brian McGinn are quick to cite Bourdain as their inspiration but they're not imitators, they're famous in their own right. Gelb is the award-winning filmmaker whose 2011 documentary, "Jiro Dreams of Sushi," is a must-see for every foodie. He's also the executive producer of a non-food docuseries, Netflix's "Trial by Media," and he's working on a documentary about chef and restaurateur Wolfgang Puck, although that one is coming to Disney .
As for Gelb's other food series, the one that paved the way for "Street Food," Netflix has renewed "Chef's Table" for two more seasons but there's no official release date yet.