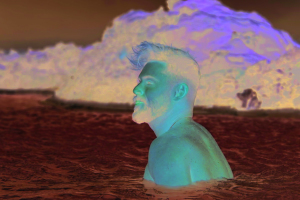 Zac Efron in "Down to Earth"
If you're diving into Netflix's catalog on a rainy day and you happen upon "Down to Earth with Zac Efron," the visuals alone might draw you in.
The Netflix original series, which dropped last month, follows the former "High School Musical" (2006) actor/heartthrob and his health guru pal, Darin Olien, as they travel the world. Efron and the production crew certainly have a knack for finding the most photogenic locations, whether it's the waters of Iceland's Blue Lagoon or the lush green canopy of the Amazon rainforest. This is an environmental-minded travel show, one that champions sustainable living, but its strong focus on diet makes it an interesting streaming option for food-minded viewers.
The first episode of "Down to Earth" finds Efron and Olien in Iceland, and it's guaranteed to stir up memories if you've been to the land of fire and ice and renewable energy. Like many pre-pandemic tourists (myself included), the pair's first stop is the village of Laugarvatn on the popular Golden Circle circuit, where they learn how rye bread is baked in the ground. The Nordic island is literally a hotbed of geothermic activity, so that's really what the episode focuses on, although they do sample reindeer tartare and dung-smoked meat along the way.
Even if you have an open mind, questions about the science presented onscreen might start to creep in. And when Efron and "dining" partner Anna Kendrick ("Pitch Perfect," 2012) meet with a Hollywood water sommelier in Episode 2, it veers towards the kind of exotic wellness that has drawn heavy criticism from health experts (drinking imported "healing" water doesn't scream "sustainability," either).
Plenty has been written about some of the dubious claims made in the series, such as in Episode 6 when a farming student explains that fresh goat's milk is naturally pasteurized (it's not). Currently, adrenal fatigue isn't an accepted medical diagnosis. Keep in mind, too, that Efron's travel partner is the author of "SuperLife: The 5 Forces That Will Make You Healthy, Fit and Eternally Awesome." Olien touts the healing benefits of superfoods throughout the series, though, at one point, he concedes that label applies to anything that has, "per bite … more micronutrients than a doughnut."
Murky science aside, what "Down to Earth with Zac Efron" gets right is that it reminds us of the critical link between our health and the health of our environment. It's also casual, educational entertainment, with plenty of gorgeous shots and a fun rapport between the traveling pair. If "change has to start somewhere," as Efron declares in the trailer, then maybe it starts with a willingness to entertain different ideas -- even if it sometimes leans more towards theory than fact.