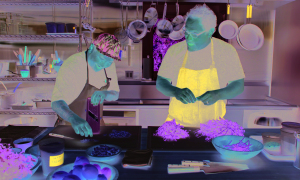 Roy Choi and Jon Favreau as seen in "The Chef Show"
Diving into Netflix's collection of food shows can be a little, well, overwhelming. You can lose hours, even days, binging on the gorgeous visuals and powerful stories featured in "Chef's Table" or "Street Food," both from "Jiro Dreams of Sushi" (2011) filmmaker David Gelb. You can also fall back/catch up on multiple seasons of comforting classics such as "The Great British Bake Off." Or for a quick hit of entertainment, there are competition series such as "Sugar Rush" or Netflix's version of "MasterChef," "The Final Table."
One series that might have slipped under your radar is the Netflix original, "The Chef Show," from writer, director and producer Jon Favreau. He's behind such Hollywood hits as "Swingers" (1996), "Elf" (2003), the Iron Man films and the Disney Plus series "The Mandalorian." But it was Favreau's work on 2014's "Chef" that sparked an interest in the culinary arts, and "The Chef Show" has become an extension of that.
It was also during the filming of "Chef" that Favreau met Roy Choi, the L.A.-based chef whose Korean barbecue taco truck (Kogi) launched the food truck movement. Choi worked as a culinary consultant and mentor to Favreau during production. He's Favreau's on- and off-screen collaborator for this series, too, and based on their easy-going dynamic, it's clear that Favreau still enjoys cooking with and learning from his former teacher.
Despite an abundance of celebrities, from the host to the guests, the act of cooking is the true star of this series. This is not a personality-driven, "how to" cooking show that leaves you feeling you're being talked at. Sure, Favreau and company will walk you through the steps to prepare different dishes. But the way they talk about their methods and career trajectories, it leaves you feeling like you're watching some old (and very famous) friends catching up over food, not unlike Favreau's 2001-2005 IFC series, "Dinner for Five." And it's these conversations that actually make the show.
One of the best moments from Volume 3 of "The Chef Show" comes when Favreau takes the lead with breadmaking. Watching his animated expression as he talks about his sourdough starter, it's clear that this legendary filmmaker is passionate about his baking process, right down to his kneading and folding technique. Add a "Take 2" moment when his first batch of biscuits burn in the oven, and it's all very relatable -- even with "Spider-Man" (2002) director Sam Raimi standing next to him.