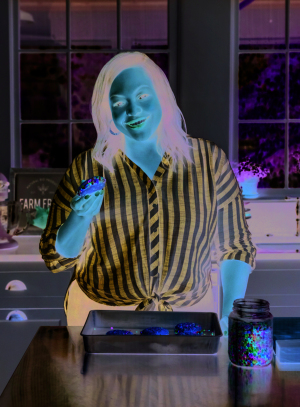 Kardea Brown hosts "Delicious Miss Brown"
Labor Day was created to celebrate the American worker, though nowadays it's become more of a final celebration of summer. But if you're already reaching for a pumpkin spice drink or other fall treats, Food Network wants you to slow your roll -- it isn't ready to say goodbye to summer grilling just yet, and neither is Kardea Brown.
Brown's series, "Delicious Miss Brown," is back for a new season (its third) on Food Network, with the first new episode airing Sunday, Sept. 6. And just in time for the long weekend, the popular host and former caterer has a Labor Day grilling menu to share with viewers.
The season premiere finds Brown at home with friends, where they "relax and grill under the Southern Sun" (that's how Food Network describes the episode). During the half-hour episode, Brown will walk you through all the steps for grilling perfect Jerk Chicken and Pineapple Skewers, which are paired with Sweet and Savory Grilled Corn and some Sweet Heat Baked Beans on the side. And to cool off, Brown serves up some fun Spiked Mojito Pops.
Friends and family are important to Brown -- we saw that in the "Cooking With Ma" self-shot special that aired in June. (The series is typically shot months in advance in Brown's hometown of Charleston, South Carolina). "Delicious Miss Brown" is, after all, an homage to Brown's Gullah/Geechee roots and the South Carolina Lowcountry recipes that were passed down to her. And the mood-busting impact of combining family and comfort foods on air hasn't been lost on the Food Network powers that be, either.
"Kardea's vibrant personality has really charmed our viewers and her recipes truly celebrate her family's Gullah/Geechee heritage," Courtney White, president of Food Network, said in a statement announcing the Season 3 premiere. "Family, friends and food are more important than ever right now -- and 'Delicious Miss Brown' is an intimate look at all three from Kardea's joyful point of view."
You can expect to see a tailgate cookout, some berry-themed recipes and brunch ideas in upcoming episodes, plus seasonal menus when we get closer to Thanksgiving and Christmas. For now, tune in to "Delicious Miss Brown" on Sept. 6 for a few more summer recipes before we all fall into autumn flavors.