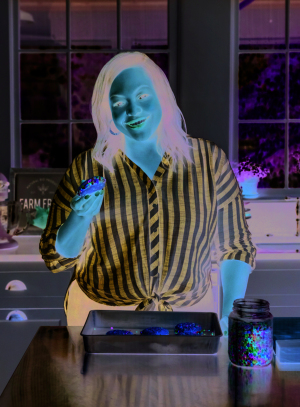 Kardea Brown hosts "Delicious Miss Brown"
Sometimes leaving home can help you gain a greater appreciation of where you came from, and Kardea Brown is a good example of that.
The host of "Delicious Miss Brown" -- now in its second season on Food Network -- was born on Wadmalaw Island, part of the Sea Islands of Charleston, South Carolina. The Charleston native was studying to become a social worker in New Jersey when she came to Food Network's attention in 2014. She impressed executives with her appearance on "Deen of Lean," and that TV moment proved to be a career changer.
More than four years have passed since Brown set out to make her culinary dreams come true. She's been the host of "Cupcake Championship" and appeared on shows such as "Beat Bobby Flay," "Chopped Junior" and more. But her star shines brightest in her first solo project, "Delicious Miss Brown."
It's a family affair in the episode airing Sunday, Jan. 26. Aunt Kardea cooks up kid-friendly treats for her nieces and nephews, including Stovetop Mac 'n' Cheese and some Baked Potato-Chip Chicken Strips, followed by Charleston Milkshakes.
These are some of the "down-home recipes" you'd expect to see every week, but "Delicious Miss Brown" is more than just a Southern cooking show. In fact, Brown's Gullah/Geechee ancestry plays a big part in her success on and off screen, having created the pop-up New Gullah Supper Club that regularly showcases the dishes her mother and grandmother passed down to her.
The Gullah/Geechee culture is unique to coastal North Carolina, South Carolina, Georgia and Florida, where residents can trace their lineage back to captive West Africans and the slave trade era. The Gullah/Geechee have managed to hold onto a way of life that developed over generations, and the cuisine is a melding of West African customs and locally available foods.
This is the influence that has defined both Brown and her show, which airs each Sunday on Food Network. "Delicious Miss Brown" films on Edisto Island, which allows Brown to simultaneously share the art of low-country cooking while providing glimpses of her proud heritage.