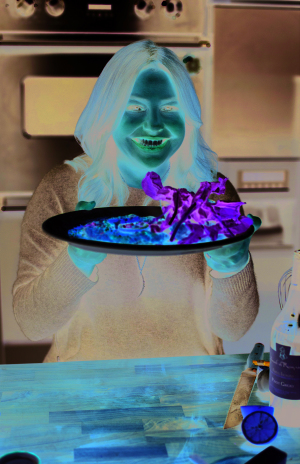 Rachael Ray hosts "30 Minute Meals"
If someone tells you they've made a list of New Year's resolutions, tightening the belt and trimming the fat (literally and figuratively) are likely to be at the top of that list.
We're heading into the mid-January crunch, a time when some resolutions are being put to the test, but don't let that discourage you. Experts say it's easier to make changes when you're working alongside others, and it seems Food Network wants to be part of your support network.
Offering up resolution-friendly meal ideas is an annual tradition for the network, which aired its annual "Healthy Weekend" programming block on Jan. 4 and 5. New and encore episodes of shows, such as "The Kitchen" and "Girl Meets Farm," covered a range of healthier eating options to support your fitness goals, from meatless entrees to lower-calorie comfort foods.
But your dollars will be doing all the stretching on Saturday and Sunday, Jan. 18 and 19. That's when Food Network's daytime block switches to a money-saving theme. And with world food prices on the rise, getting the best value out of your food budget is something that just plain makes sense.
Encore episodes of "The Kitchen" and "Trisha's Southern Kitchen" will get the value-oriented cooking block started, with recipes and tips to transform any viewer into a savvy shopper (you can also cut costs by capitalizing on weekly specials to prep make-ahead meals).
But one of the biggest food expenses -- in my house, anyway (and guilty as charged) -- is takeout and eating out. We all know we're paying extra for that convenience. But with the right recipe to try at home, you can get some of those same big flavors for less. And that's the focus of a new episode of "30 Minute Meals," in which Rachael Ray will walk you through all the steps to cook up her flavorful Crazy Szechuan Beef and Messy Corn With Shishito.
After that, "The Pioneer Woman" (aka Ree Drummond) prepares money-smart dishes for her "permanently hungry teenage sons" (Food Network's words, not mine) in a new episode. And an encore of a previous episode serves up Ree's "Cheap and Easy" make-ahead meals.
You can also look forward to new episodes of "The Kitchen" and "Trisha's Southern Kitchen" before Sunday's lineup takes up the mantle. Encores of "Brunch @ Bobby's" and "Guy's Ranch Kitchen" will continue the cost-cutting theme as part of a lineup that incudes new episodes of "Valerie's Home Cooking," "Delicious Miss Brown" and "Giada Entertains."