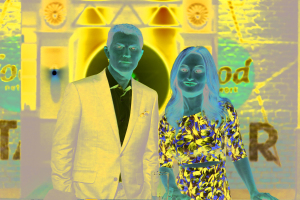 Bobby Flay and Giada De Laurentiis to host "Bobby and Giada in Italy"
Netflix, Disney , Amazon Prime, Apple TV , HBO Max and more have been battling it out for your attention and for streaming supremacy, but if you haven't heard, a new player entered the game on Monday, Jan. 4.
Discovery, Inc., the parent company of TLC, Discovery Channel, Food Network, HGTV and other networks, has thrown its hat into the streaming ring with the launch of discovery , which went live in the U.S. with some 55,000 episodes. But what's interesting for television pundits and viewers alike is the fact that its offerings aren't just current or classic series — there's plenty of new and exclusive content, too.
One such series that is only available on discovery is the new travelogue series "Bobby and Giada in Italy." Viewers get to tag along as Food Network stars Bobby Flay and Giada De Laurentiis eat and drink their way through Italy — an enviable task even in non-pandemic times.
Flay has traveled extensively to Italy in the past. In fact, his love of the Amalfi Coast is behind a new restaurant concept that is replacing his Mesa Grill at Caesars Palace in Las Vegas later this spring.
His "Next Food Network Star" co-star also owns a restaurant at Caesars Palace (Pronto by Giada). The granddaughter of famed movie producer Dino De Laurentiis ("Serpico," 1973), De Laurentiis was born in Rome and grew up in Italy, so it makes sense for Flay to team up with her for a month-long exploration of the history, culture and flavors of Rome and Tuscany. (By the way, that month translates to four episodes for us viewers.)
Another discovery exclusive is "Cakealikes," a comedic cake competition series that pits three teams of cake artists against each other. In each of the six episodes, the teams will race to create the most realistic, life-sized cake replicas of celebrities — from RuPaul in full drag to a meat dress-clad Lady Gaga — for a prize worth $10,000.
This one has a bit a "Nailed It!" feel, and there was a hint of that in the way it was presented in the official news release from Lisa Holme, Group SVP of Content and Commercial Strategy for discovery . "We're excited to expand into the competition space at discovery , a format that thrives on streaming platforms," Holme said. "Cakes are a perfect canvas for artistry and competition to collide, and 'Cakealikes' will show it's not as easy as social media may sometimes make it seem."
The big question is whether Discovery's focus will increasingly shift to streaming instead of linear TV. For now, at least, it looks like these exclusives are simply intended to shore up their streaming offerings. But with more exclusives on the way, including a cooking series with Ludacris, the streaming wars appear to be intensifying in 2021.