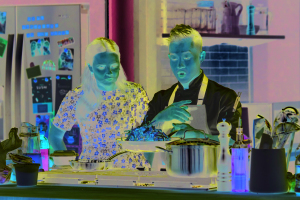 Emma Hunter and contestant Wallace Wong as seen in "Fridge Wars"
Picture this: It's dinnertime and you're standing in front of your refrigerator, staring at its contents and wondering what you could possibly make for dinner using the ingredients you have on hand. Sound familiar?
It's not unusual to feel uninspired or overwhelmed by food dilemmas. But necessity is often the mother of invention, even in the kitchen, and some folks relish the creative challenge of improvisational cooking.
Making something wonderful when you're forced to make do: that's the idea behind a new culinary competition series premiering this week.
"Fridge Wars" debuts Sunday, Aug. 2, on CW. It's a surprising addition to the lineup since The CW isn't known for its food-themed programming. Mind you, the network isn't necessarily food averse: a few years back, it aired "Dinner Spinner," a competition presented by the website Allrecipes. (It also aired "The Robert Irvine Show," starring the host of "Restaurant: Impossible," but that one was less food and more talk.)
A family-friendly competition series, "Fridge Wars" is actually a Canadian import and one of the four international acquisitions bolstering CW's depleted summer lineup. It was produced by CBC, Canada's national public broadcaster, and aired north of the border earlier this year.
Every episode of "Fridge Wars" begins at home -- specifically, the home of one Canadian family. Host Emma Hunter, who also stars in the Canadian satirical news series "The Beaverton," gets acquainted with family members while politely raiding their fridge for ingredients (more on that later).
Got a mountain of leftovers? A chunk of ice that used to be frozen peas? A jar of maraschino cherries that's been lurking at the back of the fridge for years? All fridge contents are fair game (well maybe not the cherries, and I promise you I'll toss them). Any photos or recipes found outside the fridge also provide insight into the family's preferences and interests, and that's important for the first challenge.
The actual competition takes place in a studio. Two Canadian celebrity chefs have 45 minutes to create an incredible meal for a family they don't know, using the items from that family's fridge. Family members then score the meals based on look, taste and originality. After that, the same thing happens with a second family, except this time, a "What The Fridge" (WTF) challenge adds a unique twist.
At the end of the episode, the scores from both families are tabulated and the highest-scoring chef is the "Fridge Wars" champion -- at least, for that episode. A total of six episodes will air on CW, and it all begins this Sunday, Aug. 2.